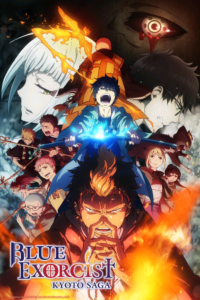 | # | Title | Type | Airdate |
| --- | --- | --- | --- |
| 1 | The Devil Resides in Human Souls | Mixed Canon/Filler | 2011-04-17 |
| 2 | Gehenna Gate | Mixed Canon/Filler | 2011-04-24 |
| 3 | Brothers | Mixed Canon/Filler | 2011-05-01 |
| 4 | The Garden of Amahara | Manga Canon | 2011-05-08 |
| 5 | A Boy from the Cursed Temple | Manga Canon | 2011-05-15 |
| 6 | The Phantom Chef | Filler | 2011-05-22 |
| 7 | A Flock of Plovers | Manga Canon | 2011-05-29 |
| 8 | Now a Certain Man Was Sick… | Manga Canon | 2011-06-05 |
| 9 | Memories | Manga Canon | 2011-06-12 |
| 10 | Black Cat | Manga Canon | 2011-06-19 |
| 11 | Demon of the Deep Seas | Filler | 2011-06-26 |
| 12 | A Game of Tag | Manga Canon | 2011-07-03 |
| 13 | Proof | Manga Canon | 2011-07-10 |
| 14 | A Fun Camping Trip | Manga Canon | 2011-07-17 |
| 15 | Act of Kindness | Manga Canon | 2011-07-24 |
| 16 | The Wager | Mixed Canon/Filler | 2011-07-31 |
| 17 | Temptation | Mixed Canon/Filler | 2011-08-07 |
| 18 | Gufu | Filler | 2011-08-14 |
| 19 | An Ordinary Day | Filler | 2011-08-21 |
| 20 | Mask | Filler | 2011-08-28 |
| 21 | The Secret Garden | Filler | 2011-09-04 |
| 22 | Demon-hunting | Filler | 2011-09-11 |
| 23 | Truth | Filler | 2011-09-18 |
| 24 | Satan's Spawn | Filler | 2011-09-25 |
| 25 | Stop, Time | Filler | 2011-10-02 |
| 26 | Small Beginnings | Manga Canon | 2017-01-07 |
| 27 | Strange Bedfellows | Manga Canon | 2017-01-14 |
| 28 | Suspicion Will Raise Bogies | Manga Canon | 2017-01-21 |
| 29 | Act of Treachery | Manga Canon | 2017-01-28 |
| 30 | Mysterious Connections | Manga Canon | 2017-02-04 |
| 31 | A Wolf in Sheep's Clothing | Manga Canon | 2017-02-11 |
| 32 | Like a Fire Burning Bright | Manga Canon | 2017-02-18 |
| 33 | From Father to Son | Manga Canon | 2017-02-25 |
| 34 | Through Thick and Thin | Manga Canon | 2017-03-04 |
| 35 | Unbowed and Unbroken | Manga Canon | 2017-03-11 |
| 36 | Shine Bright as the Sun | Manga Canon | 2017-03-18 |
| 37 | Candid and Open | Manga Canon | 2017-03-25 |
| # | Title | Type | Airdate |
| --- | --- | --- | --- |
| 6 | The Phantom Chef | Filler | 2011-05-22 |
| 11 | Demon of the Deep Seas | Filler | 2011-06-26 |
| 18 | Gufu | Filler | 2011-08-14 |
| 19 | An Ordinary Day | Filler | 2011-08-21 |
| 20 | Mask | Filler | 2011-08-28 |
| 21 | The Secret Garden | Filler | 2011-09-04 |
| 22 | Demon-hunting | Filler | 2011-09-11 |
| 23 | Truth | Filler | 2011-09-18 |
| 24 | Satan's Spawn | Filler | 2011-09-25 |
| 25 | Stop, Time | Filler | 2011-10-02 |
| # | Title | Type | Airdate |
| --- | --- | --- | --- |
| 1 | The Devil Resides in Human Souls | Mixed Canon/Filler | 2011-04-17 |
| 2 | Gehenna Gate | Mixed Canon/Filler | 2011-04-24 |
| 3 | Brothers | Mixed Canon/Filler | 2011-05-01 |
| 4 | The Garden of Amahara | Manga Canon | 2011-05-08 |
| 5 | A Boy from the Cursed Temple | Manga Canon | 2011-05-15 |
| 7 | A Flock of Plovers | Manga Canon | 2011-05-29 |
| 8 | Now a Certain Man Was Sick… | Manga Canon | 2011-06-05 |
| 9 | Memories | Manga Canon | 2011-06-12 |
| 10 | Black Cat | Manga Canon | 2011-06-19 |
| 12 | A Game of Tag | Manga Canon | 2011-07-03 |
| 13 | Proof | Manga Canon | 2011-07-10 |
| 14 | A Fun Camping Trip | Manga Canon | 2011-07-17 |
| 15 | Act of Kindness | Manga Canon | 2011-07-24 |
| 16 | The Wager | Mixed Canon/Filler | 2011-07-31 |
| 17 | Temptation | Mixed Canon/Filler | 2011-08-07 |
| 26 | Small Beginnings | Manga Canon | 2017-01-07 |
| 27 | Strange Bedfellows | Manga Canon | 2017-01-14 |
| 28 | Suspicion Will Raise Bogies | Manga Canon | 2017-01-21 |
| 29 | Act of Treachery | Manga Canon | 2017-01-28 |
| 30 | Mysterious Connections | Manga Canon | 2017-02-04 |
| 31 | A Wolf in Sheep's Clothing | Manga Canon | 2017-02-11 |
| 32 | Like a Fire Burning Bright | Manga Canon | 2017-02-18 |
| 33 | From Father to Son | Manga Canon | 2017-02-25 |
| 34 | Through Thick and Thin | Manga Canon | 2017-03-04 |
| 35 | Unbowed and Unbroken | Manga Canon | 2017-03-11 |
| 36 | Shine Bright as the Sun | Manga Canon | 2017-03-18 |
| 37 | Candid and Open | Manga Canon | 2017-03-25 |
Blue Exorcist Filler List
If you are a fan of dark fantasy and thriller, then there is no way you have not heard about the marvellous anime and manga novels by the name Blue Exorcist. Illustrated by Kazue Kato in 2009, the anime Blue Exorcist is based on the twenty seven volume long manga series. 
What is Blue Exorcist about?
The show follows the journey of twins, Rin and Yukio Okumura, who discover that they are the children of Satan, born by a human woman. Rin discovers that he is the inheritor of Satan's powers and soon enrols himself in the True Cross Academy to prepare for a battle against his father. 
How many episodes does Blue Exorcist have?
Blue Exorcist aired between the years 2011 and 2017. It concluded a total of thirty-seven episodes during this six year runtime. Lets see how many of these are actually crucial to the manga plot the show is adapted on and follow Rin's venture against his father's defeat.
How many filler episodes does Blue Exorcist have?
From these thirty-seven episodes, there are a total of ten completely filler episodes and five mixed canon and filler ones. Both of these add up to a moderate filler percentage of 27% for the amazing anime, Blue Exorcist. 
Therefore, if you are planning to watch the long but thrilling anime series, we suggest skipping its filler episodes at first, if you want to stay hooked to the actual plot. Once you are done with the series, you can always go back and watch these filler episodes for entertainment and ideal Rin and Yukio content. 
Cowboy Bebop Filler List