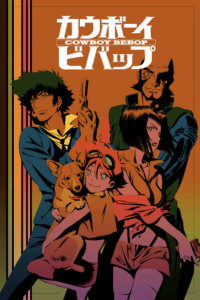 | # | Title | Type | Airdate |
| --- | --- | --- | --- |
| 1 | Asteroid Blues | Manga Canon | 1998-10-24 |
| 2 | Stray Dog Strut | Manga Canon | 1998-04-03 |
| 3 | Honky Tonk Women | Manga Canon | 1998-04-10 |
| 4 | Gateway Shuffle | Manga Canon | 1998-11-14 |
| 5 | Ballad of Fallen Angels | Manga Canon | 1998-11-21 |
| 6 | Sympathy for the Devil | Manga Canon | 1998-11-28 |
| 7 | Heavy Metal Queen | Manga Canon | 1998-04-17 |
| 8 | Waltz for Venus | Manga Canon | 1998-04-24 |
| 9 | Jamming with Edward | Manga Canon | 1998-05-01 |
| 10 | Ganymede Elegy | Manga Canon | 1998-05-08 |
| 11 | Toys in the Attic | Manga Canon | 1998-05-15 |
| 12 | Jupiter Jazz (part 1) | Manga Canon | 1998-05-22 |
| 13 | Jupiter Jazz (part 2) | Manga Canon | 1998-05-29 |
| 14 | Bohemian Rhapsody | Manga Canon | 1998-06-05 |
| 15 | My Funny Valentine | Manga Canon | 1998-06-12 |
| 16 | Black Dog Serenade | Manga Canon | 1999-02-13 |
| 17 | Mushroom Samba | Manga Canon | 1999-02-20 |
| 18 | Speak Like a Child | Manga Canon | 1998-06-19 |
| 19 | Wild Horses | Manga Canon | 1999-03-06 |
| 20 | Pierrot Le Fou | Manga Canon | 1999-03-13 |
| 21 | Boogie Woogie Feng Shui | Manga Canon | 1999-03-20 |
| 22 | Cowboy Funk | Manga Canon | 1999-03-27 |
| 23 | Brain Scratch | Manga Canon | 1999-09-03 |
| 24 | Hard Luck Woman | Manga Canon | 1999-04-10 |
| 25 | The Real Folk Blues, Part One | Manga Canon | 1999-04-17 |
| 26 | The Real Folk Blues, Part Two | Manga Canon | 1999-04-24 |
| # | Title | Type | Airdate |
| --- | --- | --- | --- |
| 1 | Asteroid Blues | Manga Canon | 1998-10-24 |
| 2 | Stray Dog Strut | Manga Canon | 1998-04-03 |
| 3 | Honky Tonk Women | Manga Canon | 1998-04-10 |
| 4 | Gateway Shuffle | Manga Canon | 1998-11-14 |
| 5 | Ballad of Fallen Angels | Manga Canon | 1998-11-21 |
| 6 | Sympathy for the Devil | Manga Canon | 1998-11-28 |
| 7 | Heavy Metal Queen | Manga Canon | 1998-04-17 |
| 8 | Waltz for Venus | Manga Canon | 1998-04-24 |
| 9 | Jamming with Edward | Manga Canon | 1998-05-01 |
| 10 | Ganymede Elegy | Manga Canon | 1998-05-08 |
| 11 | Toys in the Attic | Manga Canon | 1998-05-15 |
| 12 | Jupiter Jazz (part 1) | Manga Canon | 1998-05-22 |
| 13 | Jupiter Jazz (part 2) | Manga Canon | 1998-05-29 |
| 14 | Bohemian Rhapsody | Manga Canon | 1998-06-05 |
| 15 | My Funny Valentine | Manga Canon | 1998-06-12 |
| 16 | Black Dog Serenade | Manga Canon | 1999-02-13 |
| 17 | Mushroom Samba | Manga Canon | 1999-02-20 |
| 18 | Speak Like a Child | Manga Canon | 1998-06-19 |
| 19 | Wild Horses | Manga Canon | 1999-03-06 |
| 20 | Pierrot Le Fou | Manga Canon | 1999-03-13 |
| 21 | Boogie Woogie Feng Shui | Manga Canon | 1999-03-20 |
| 22 | Cowboy Funk | Manga Canon | 1999-03-27 |
| 23 | Brain Scratch | Manga Canon | 1999-09-03 |
| 24 | Hard Luck Woman | Manga Canon | 1999-04-10 |
| 25 | The Real Folk Blues, Part One | Manga Canon | 1999-04-17 |
| 26 | The Real Folk Blues, Part Two | Manga Canon | 1999-04-24 |
Cowboy Bebop filler list
As opposed to mainstream anime shows focused on fantasy and adventure plots, the Sunrise studio produced the self provoking and touching, Cowboy Bebop series based on the popular manga novels written by Kadokawa Shoten. 
What is the Cowboy Bebop about?
Dealing with neo-noir, space and western genres, Cowboy Bebop is based in the year 2071 about a group of odd bounty hunters or commonly known cowboys. They travel in their spaceship, Bebop, in search of criminals but instead land themselves in trouble and unpredictable encounters with the ISSP and a woman from Earth.
How many episodes does the Cowboy Bebop anime show have?
Like lots of other anime shows, the Cowboy Bebop is based on the manga series of the same name. The author concluded the manga series in 1998 with only two volumes whereas a further three volume manga was concluded in 2000.
Cowboy Bebop first greenlit television screens in April 1998 and finally reached its end in the month of June 1999. Given this short runtime, the series has a total of twenty-six episodes and took content from its manga series.
How many filler episodes does the Cowboy Bebop have?
Consisting of only 26 episodes, it seems that the source material for Cowboy Bebop was more than sufficient for the anime to adapt on. Cowboy Bebop contains no filler episodes at all and every single episode is completely canon to the manga plot and series. 
Related Filler Lists