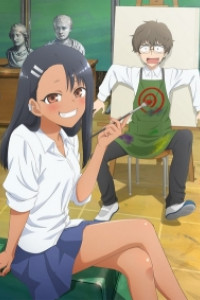 | # | Title | Type | Airdate |
| --- | --- | --- | --- |
| 1 | Senpai is a bit…/Senpai, don't you ever get angry? | Manga Canon | 2021-04-03 |
| 2 | You Got Your Wish, Senpai!!!/Sup, Senpai! | Manga Canon | 2021-04-17 |
| 3 | Let's Do It Again Sometime, Senpai/Senpai! Come here~! | Manga Canon | 2021-04-24 |
| 4 | Senpai, You've Gone Beet Red/Senpai needs a little more… | Manga Canon | 2021-05-02 |
| 5 | If We Buzz That Fluff, Senpai/Thanks for the Treat, Senpai!! | Manga Canon | 2021-05-08 |
| 6 | You're Such a Wimp, Senpai~♥/Senpai! Let's Go to the Beach!! | Manga Canon | 2021-05-15 |
| 7 | Senpai, Why Don't We Go to the Festival?/This Is Like a Date, Isn't It, Senpai? ♥ | Manga Canon | 2021-05-22 |
| 8 | It May Be More Fun Than You'd Expect, Ex-Senpai ♥/Let's Do Rock-Paper-Scissors, Senpai!! | Manga Canon | 2021-05-29 |
| 9 | Senpai's Such a Closet Perv!!/There's No Way Creepy Senpai Could Go on a Proper Date!! | Manga Canon | 2021-06-05 |
| 10 | You Seem Pretty Stiff, Senpai/I'll Do It For You, Senpai! | Manga Canon | 2021-06-13 |
| 11 | Whadda You Think of It, Senpai?/Come One! Just Admit You Want It, Senpai!♥ | Manga Canon | 2021-06-20 |
| 12 | Has Spring Finally Come for Senpai, The Unpopular Lone Louse?!/She Said Something About Love, Didn't She, Senpai? | Manga Canon | 2021-06-27 |
| # | Title | Type | Airdate |
| --- | --- | --- | --- |
| 1 | Senpai is a bit…/Senpai, don't you ever get angry? | Manga Canon | 2021-04-03 |
| 2 | You Got Your Wish, Senpai!!!/Sup, Senpai! | Manga Canon | 2021-04-17 |
| 3 | Let's Do It Again Sometime, Senpai/Senpai! Come here~! | Manga Canon | 2021-04-24 |
| 4 | Senpai, You've Gone Beet Red/Senpai needs a little more… | Manga Canon | 2021-05-02 |
| 5 | If We Buzz That Fluff, Senpai/Thanks for the Treat, Senpai!! | Manga Canon | 2021-05-08 |
| 6 | You're Such a Wimp, Senpai~♥/Senpai! Let's Go to the Beach!! | Manga Canon | 2021-05-15 |
| 7 | Senpai, Why Don't We Go to the Festival?/This Is Like a Date, Isn't It, Senpai? ♥ | Manga Canon | 2021-05-22 |
| 8 | It May Be More Fun Than You'd Expect, Ex-Senpai ♥/Let's Do Rock-Paper-Scissors, Senpai!! | Manga Canon | 2021-05-29 |
| 9 | Senpai's Such a Closet Perv!!/There's No Way Creepy Senpai Could Go on a Proper Date!! | Manga Canon | 2021-06-05 |
| 10 | You Seem Pretty Stiff, Senpai/I'll Do It For You, Senpai! | Manga Canon | 2021-06-13 |
| 11 | Whadda You Think of It, Senpai?/Come One! Just Admit You Want It, Senpai!♥ | Manga Canon | 2021-06-20 |
| 12 | Has Spring Finally Come for Senpai, The Unpopular Lone Louse?!/She Said Something About Love, Didn't She, Senpai? | Manga Canon | 2021-06-27 |
Miss Nagatoro Filler List
Deemed as the perfect blend of romantic comedy genre, Don't Toy with Me, Miss Nagatoro is a super popular anime series among the audience. The series is originally based on the Manga series of a similar name, written by Nanashi in 2007. 
Miss Nagatoro Anime Series
Miss Nagatoro was only recently taken up by the Crunchyroll studios to be adapted into an anime show in 2021. It aired between the months of April till June earlier this year and concluded with a total of twelve episodes.
Miss Nagatoro Filler Episodes
It is important that before you start binge watching an anime series, you know the exact number of its filler and canon episodes. This helps you deduce what episodes are worth your time and attention beforehand. Therefore, lets look at the filler episode rate of the fantastic, Don't toy with me, Miss Nagatoro anime series.
With a total of twelve episodes, this series has a reported zero filler rate! Every single one of its episodes is completely canon to the plot and thereby, worth watching with complete concentration to follow the character's journey truly.
Plot of Miss Nagatoro
Having mentioned its filler rate above, let us briefly discuss exactly what it is about Miss Nagatoro that has left the viewers head over heels in love with the characters and plot. 
Following the journey of an introverted high schooler called Senpai, the series feature the aftereffects of school's bully, Nagatoro discovering Senpai's manga in the library and using it to bully him throughout his time at school. In between this bullying and banter, Senpei and Nagatoro develop a mutual crush on each other and try to confess without making a fool out of them.

Related Fillers

Digimon Tamers Fillers
City Hunter Filler List