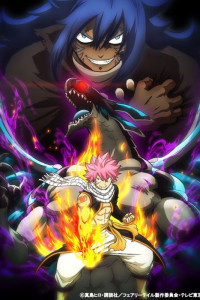 | # | Title | Type | Airdate |
| --- | --- | --- | --- |
| 1 | The Fairy Tail | Manga Canon | 2009-10-12 |
| 2 | Fire Dragon, Monkey, and Bull | Manga Canon | 2009-10-19 |
| 3 | Infiltrate the Everlue Mansion | Manga Canon | 2009-10-26 |
| 4 | Dear Kaby | Manga Canon | 2009-11-02 |
| 5 | The Wizard in Armor | Manga Canon | 2009-11-09 |
| 6 | Fairies in the Wind | Manga Canon | 2009-11-16 |
| 7 | Flame and Wind | Manga Canon | 2009-11-23 |
| 8 | The Strongest Team | Manga Canon | 2009-11-30 |
| 9 | Natsu Devours a Village | Filler | 2009-12-07 |
| 10 | Natsu vs. Erza | Manga Canon | 2009-12-14 |
| 11 | The Cursed Island | Manga Canon | 2009-12-21 |
| 12 | Moon Drip | Manga Canon | 2010-01-04 |
| 13 | Natsu vs. Yuka the Wave User | Manga Canon | 2010-01-11 |
| 14 | Just Do Whatever!! | Manga Canon | 2010-01-18 |
| 15 | Eternal Magic | Manga Canon | 2010-01-25 |
| 16 | The Final Showdown on Galuna Island | Manga Canon | 2010-02-01 |
| 17 | Burst | Manga Canon | 2010-02-08 |
| 18 | Reach the Sky Above | Manga Canon | 2010-02-15 |
| 19 | Changeling | Filler | 2010-02-22 |
| 20 | Natsu and the Dragon Egg | Mixed Canon/Filler | 2010-03-01 |
| 21 | The Phantom Lord | Manga Canon | 2010-03-08 |
| 22 | Lucy Heartfilia | Manga Canon | 2010-03-15 |
| 23 | 15 Minutes | Manga Canon | 2010-03-22 |
| 24 | To Keep From Seeing Those Tears | Manga Canon | 2010-03-29 |
| 25 | A Flower Blooms in the Rain | Manga Canon | 2010-04-12 |
| 26 | Wings of Flame | Manga Canon | 2010-04-19 |
| 27 | The Two Dragon Slayers | Manga Canon | 2010-04-26 |
| 28 | Fairy Law | Manga Canon | 2010-05-03 |
| 29 | My Resolve | Manga Canon | 2010-05-10 |
| 30 | Next Generation | Manga Canon | 2010-05-17 |
| 31 | A Star Removed from the Sky | Manga Canon | 2010-05-24 |
| 32 | Celestial Spirit King | Manga Canon | 2010-05-31 |
| 33 | The Tower of Heaven | Manga Canon | 2010-06-07 |
| 34 | Jellal | Manga Canon | 2010-06-21 |
| 35 | Voice of Darkness | Manga Canon | 2010-06-28 |
| 36 | Heaven's Game | Manga Canon | 2010-07-05 |
| 37 | Armor of the Heart | Manga Canon | 2010-07-12 |
| 38 | Destiny | Manga Canon | 2010-07-19 |
| 39 | Give Our Prayers to the Sacred Light | Manga Canon | 2010-07-26 |
| 40 | Titania Falls | Manga Canon | 2010-08-02 |
| 41 | Home | Manga Canon | 2010-08-09 |
| 42 | Battle of Fairy Tail | Manga Canon | 2010-08-16 |
| 43 | Defeat Your Friends to Save Your Friends | Manga Canon | 2010-08-23 |
| 44 | Thunder Palace | Manga Canon | 2010-08-30 |
| 45 | Advent of Satan | Manga Canon | 2010-09-06 |
| 46 | Clash at Kardia Cathedral! | Manga Canon | 2010-09-13 |
| 47 | Triple Dragons | Manga Canon | 2010-09-20 |
| 48 | Fantasia | Manga Canon | 2010-09-27 |
| 49 | The Day of the Fateful Encounter | Filler | 2010-10-11 |
| 50 | Special Request: Watch Out for the Guy You Like! | Filler | 2010-10-18 |
| 51 | Love & Lucky | Manga Canon | 2010-10-25 |
| 52 | Allied Forces, Assemble! | Manga Canon | 2010-11-01 |
| 53 | Enter the Oración Seis! | Manga Canon | 2010-11-08 |
| 54 | Maiden of the Sky | Manga Canon | 2010-11-15 |
| 55 | The Girl and the Ghost | Manga Canon | 2010-11-22 |
| 56 | Dead Grand Prix | Manga Canon | 2010-11-29 |
| 57 | Darkness | Manga Canon | 2010-12-06 |
| 58 | Celestial Skirmish | Manga Canon | 2010-12-13 |
| 59 | Jellal of Days Gone By | Manga Canon | 2010-12-20 |
| 60 | March of Destruction | Manga Canon | 2010-12-27 |
| 61 | Super Aerial Battle: Natsu vs. Cobra! | Manga Canon | 2011-01-10 |
| 62 | Wizard Saint Jura | Manga Canon | 2011-01-17 |
| 63 | Your Words | Manga Canon | 2011-01-24 |
| 64 | Zero | Manga Canon | 2011-01-31 |
| 65 | From Pegasus to Fairies | Manga Canon | 2011-02-07 |
| 66 | The Power of Feelings | Manga Canon | 2011-02-14 |
| 67 | I'm With You | Manga Canon | 2011-02-21 |
| 68 | A Guild for One | Manga Canon | 2011-02-28 |
| 69 | Call of the Dragon | Filler | 2011-03-07 |
| 70 | Natsu vs. Gray!! | Filler | 2011-03-14 |
| 71 | Friendship Overcomes the Dead | Filler | 2011-03-21 |
| 72 | A Fairy Tail Wizard | Filler | 2011-03-28 |
| 73 | Rainbow Cherry Blossoms | Filler | 2011-04-04 |
| 74 | Wendy's First Big Job!? | Filler | 2011-04-11 |
| 75 | 24-Hour Endurance Road Race | Filler | 2011-04-16 |
| 76 | Gildarts | Manga Canon | 2011-04-23 |
| 77 | Earth Land | Manga Canon | 2011-04-30 |
| 78 | Edolas | Manga Canon | 2011-05-07 |
| 79 | Fairy Hunter | Manga Canon | 2011-05-14 |
| 80 | Key of Hope | Manga Canon | 2011-05-21 |
| 81 | Fireball | Manga Canon | 2011-05-28 |
| 82 | Welcome Home | Manga Canon | 2011-06-04 |
| 83 | Extalia | Manga Canon | 2011-06-11 |
| 84 | Fly, to Our Friends! | Manga Canon | 2011-06-18 |
| 85 | Code ETD | Manga Canon | 2011-06-25 |
| 86 | Erza vs. Erza | Manga Canon | 2011-07-02 |
| 87 | We're Talking About Lives Here!!!! | Manga Canon | 2011-07-09 |
| 88 | For Pride's Sake, the River of Stars | Manga Canon | 2011-07-16 |
| 89 | The Apocalyptic Dragon Chain Cannon | Manga Canon | 2011-07-23 |
| 90 | The Boy Back Then | Manga Canon | 2011-07-30 |
| 91 | Dragon Sense | Manga Canon | 2011-08-06 |
| 92 | O Living Ones | Manga Canon | 2011-08-13 |
| 93 | I'm Standing Right Here | Manga Canon | 2011-08-20 |
| 94 | Bye-Bye, Edolas | Manga Canon | 2011-08-27 |
| 95 | Lisanna | Manga Canon | 2011-09-03 |
| 96 | He Who Extinguishes Life | Manga Canon | 2011-09-10 |
| 97 | Best Partners | Manga Canon | 2011-09-17 |
| 98 | Who's the Lucky One? | Manga Canon | 2011-09-24 |
| 99 | Natsu vs. Gildarts | Manga Canon | 2011-10-01 |
| 100 | Mest | Manga Canon | 2011-10-08 |
| 101 | Black Wizard | Manga Canon | 2011-10-15 |
| 102 | Iron Soul | Manga Canon | 2011-10-22 |
| 103 | Makarov Charges | Manga Canon | 2011-10-29 |
| 104 | Lost Magic | Manga Canon | 2011-11-05 |
| 105 | Fire Dragon vs. Flame God | Manga Canon | 2011-11-12 |
| 106 | Grand Magic World | Manga Canon | 2011-11-19 |
| 107 | Arc of Embodiment | Manga Canon | 2011-11-26 |
| 108 | Human Gate | Manga Canon | 2011-12-03 |
| 109 | Lucy Fire | Manga Canon | 2011-12-10 |
| 110 | Dead-End of Despair | Manga Canon | 2011-12-17 |
| 111 | Tears of Love and Vitality | Manga Canon | 2011-12-24 |
| 112 | The One Thing I Couldn't Say | Manga Canon | 2012-01-07 |
| 113 | Tenrou Tree | Manga Canon | 2012-01-14 |
| 114 | Erza vs. Azuma | Manga Canon | 2012-01-21 |
| 115 | Freezing Fighting Spirit | Manga Canon | 2012-01-28 |
| 116 | Power of Life | Manga Canon | 2012-02-04 |
| 117 | Rolling Thunder | Manga Canon | 2012-02-11 |
| 118 | The Man Without an Emblem | Manga Canon | 2012-02-18 |
| 119 | Realm of the Abyss | Manga Canon | 2012-02-25 |
| 120 | Daybreak on Tenrou Island | Manga Canon | 2012-03-02 |
| 121 | The Right To Love | Manga Canon | 2012-03-09 |
| 122 | Let's Hold Hands | Manga Canon | 2012-03-16 |
| 123 | Fairy Tail, Year X791 | Manga Canon | 2012-03-23 |
| 124 | The Seven Year Gap | Manga Canon | 2012-03-31 |
| 125 | The Magic Ball | Filler | 2012-04-07 |
| 126 | True Scoundrels – The Butt Jiggle Gang | Filler | 2012-04-14 |
| 127 | The Terror of Invisible Lucy! | Filler | 2012-04-21 |
| 128 | Father's Memento | Filler | 2012-04-28 |
| 129 | Turbulent Showdown! Natsu vs. Laxus | Filler | 2012-05-05 |
| 130 | Target: Lucy | Filler | 2012-05-12 |
| 131 | The Fury of Legion | Filler | 2012-05-19 |
| 132 | Key of the Starry Heavens | Filler | 2012-05-26 |
| 133 | Travel Companions | Filler | 2012-06-02 |
| 134 | Labyrinth Capriccio | Filler | 2012-06-09 |
| 135 | Footprints of the Myth | Filler | 2012-06-16 |
| 136 | True Scoundrels, Once Again | Filler | 2012-06-23 |
| 137 | Defying Calculation | Filler | 2012-06-30 |
| 138 | The Course of the Holy War | Filler | 2012-07-07 |
| 139 | Time Begins to Tick | Filler | 2012-07-14 |
| 140 | Enter the Neo-Oración Seis! | Filler | 2012-07-21 |
| 141 | Get the Infinity Clock! | Filler | 2012-07-28 |
| 142 | Dissonance of Battle | Filler | 2012-08-04 |
| 143 | Anti-Link | Filler | 2012-08-11 |
| 144 | Despair Unleashed | Filler | 2012-08-18 |
| 145 | Real Nightmare | Filler | 2012-08-25 |
| 146 | Time Spiral | Filler | 2012-09-01 |
| 147 | To the Infinity Castle! | Filler | 2012-09-08 |
| 148 | Angel Tears | Filler | 2012-09-15 |
| 149 | I Hear the Voice of My Friend | Filler | 2012-09-22 |
| 150 | Lucy and Michelle | Filler | 2012-09-29 |
| 151 | Sabertooth | Mixed Canon/Filler | 2012-10-06 |
| 152 | And So We Aim for the Top | Manga Canon | 2012-10-13 |
| 153 | Song of the Stars | Manga Canon | 2012-10-20 |
| 154 | For All the Time We Missed Each Other | Manga Canon | 2012-10-27 |
| 155 | Crocus, the Flower-Blooming Capital | Manga Canon | 2012-11-03 |
| 156 | Sky Labyrinth | Manga Canon | 2012-11-10 |
| 157 | New Guild | Manga Canon | 2012-11-17 |
| 158 | Night of Shooting Stars | Manga Canon | 2012-11-24 |
| 159 | Lucy vs. Flare | Manga Canon | 2012-12-01 |
| 160 | Portent | Manga Canon | 2012-12-08 |
| 161 | Chariots | Manga Canon | 2012-12-15 |
| 162 | Elfman vs. Bacchus | Manga Canon | 2012-12-22 |
| 163 | Mirajane vs. Jenny | Manga Canon | 2013-01-05 |
| 164 | Kagura vs. Yukino | Manga Canon | 2013-01-12 |
| 165 | Hatred at Nightfall | Manga Canon | 2013-01-19 |
| 166 | Pandemonium | Manga Canon | 2013-01-26 |
| 167 | 100 Against 1 | Manga Canon | 2013-02-02 |
| 168 | Laxus vs. Alexei | Manga Canon | 2013-02-09 |
| 169 | Wendy vs. Shelia | Manga Canon | 2013-02-16 |
| 170 | Small Fists | Manga Canon | 2013-02-23 |
| 171 | Naval Battle | Manga Canon | 2013-03-02 |
| 172 | A Parfum For You | Manga Canon | 2013-03-09 |
| 173 | Battle of the Dragon Slayers! | Manga Canon | 2013-03-16 |
| 174 | Four Dragons | Manga Canon | 2013-03-23 |
| 175 | Natsu vs. the Twin Dragons | Manga Canon | 2013-03-30 |
| 176 | King of the Dragons | Manga Canon | 2014-04-05 |
| 177 | The Eclipse Project | Manga Canon | 2014-04-12 |
| 178 | Fairy Tactician | Manga Canon | 2014-04-19 |
| 179 | Gray vs. Rufus | Manga Canon | 2014-04-26 |
| 180 | The Hungry Wolf Knights | Manga Canon | 2014-05-03 |
| 181 | Fairy Tail vs. Executioners | Manga Canon | 2014-05-10 |
| 182 | Scorching Earth | Manga Canon | 2014-05-17 |
| 183 | Our Place | Manga Canon | 2014-05-24 |
| 184 | The Kingdom 'til Tomorrow | Manga Canon | 2014-05-31 |
| 185 | Erza vs. Kagura | Manga Canon | 2014-06-07 |
| 186 | A Future Racing Toward Despair | Manga Canon | 2014-06-14 |
| 187 | Frog | Manga Canon | 2014-06-21 |
| 188 | Roaring Thunder! | Manga Canon | 2014-06-28 |
| 189 | Gloria | Manga Canon | 2014-07-05 |
| 190 | The One Who Closes the Gate | Manga Canon | 2014-07-12 |
| 191 | Natsu vs. Rogue | Manga Canon | 2014-07-19 |
| 192 | For Me, Too | Manga Canon | 2014-07-26 |
| 193 | Seven Dragons | Manga Canon | 2014-08-02 |
| 194 | Zirconis' Magic | Manga Canon | 2014-08-09 |
| 195 | People and People, Dragons and Dragons, People and Dragons | Manga Canon | 2014-08-16 |
| 196 | Sin and Sacrifice | Manga Canon | 2014-08-23 |
| 197 | Time of Life | Manga Canon | 2014-08-30 |
| 198 | Fields of Gold | Manga Canon | 2014-09-06 |
| 199 | The Grand Banquet | Manga Canon | 2014-09-13 |
| 200 | Droplets of Time | Manga Canon | 2014-09-20 |
| 201 | A Gift | Mixed Canon/Filler | 2014-09-27 |
| 202 | Welcome Back, Frosch | Filler | 2014-10-03 |
| 203 | Moulin Rouge | Filler | 2014-10-11 |
| 204 | Full Effort Hospitality! | Filler | 2014-10-18 |
| 205 | Signal of Rebellion | Filler | 2014-10-25 |
| 206 | Library Panic | Filler | 2014-11-01 |
| 207 | Hisui Rises! | Filler | 2014-11-07 |
| 208 | Astral Spiritus | Filler | 2014-11-14 |
| 209 | Wendy vs. Aquarius – Let's Have Fun in the Amusement Park! | Filler | 2014-11-21 |
| 210 | Guild Deck vs. Celestial Deck | Filler | 2014-11-28 |
| 211 | Gray vs. Cancer! Dance Battle! | Filler | 2014-12-05 |
| 212 | Juvia vs. Aries! Desert Death Match! | Filler | 2014-12-12 |
| 213 | Erza vs. Sagittarius! Horseback Showdown! | Filler | 2014-12-19 |
| 214 | Natsu vs. Leo | Filler | 2014-12-26 |
| 215 | Ophiuchus, the Snake Charmer | Filler | 2015-01-09 |
| 216 | When the Stars Fall | Filler | 2015-01-16 |
| 217 | Celestial Spirit Beast | Filler | 2015-01-23 |
| 218 | Believe | Filler | 2015-01-30 |
| 219 | What a Pure Heart Weaves | Filler | 2015-02-06 |
| 220 | 413 Days | Filler | 2015-02-13 |
| 221 | The Labyrinth of White | Filler | 2015-02-20 |
| 222 | Transform! | Filler | 2015-02-28 |
| 223 | It's Kemo-Kemo! | Filler | 2015-03-07 |
| 224 | The Place You Came To | Filler | 2015-03-14 |
| 225 | Lightning Man | Filler | 2015-03-21 |
| 226 | Fairy Tail of the Dead Meeeeeeeeen | Filler | 2015-03-28 |
| 227 | Morning of a New Adventure | Manga Canon | 2015-04-04 |
| 228 | Wizards vs. Hunters | Manga Canon | 2015-04-11 |
| 229 | Art of Regression | Manga Canon | 2015-04-18 |
| 230 | The Demon Returns | Manga Canon | 2015-04-25 |
| 231 | Gray vs. Doriate | Manga Canon | 2015-05-02 |
| 232 | Voice of the Flame | Manga Canon | 2015-05-09 |
| 233 | Song of the Fairies | Manga Canon | 2015-05-16 |
| 234 | Tartaros Chapter, Prologue – The Nine Demon Gates | Manga Canon | 2015-05-23 |
| 235 | Tartaros Chapter, Prologue – Fairies vs. Netherworld | Manga Canon | 2015-05-30 |
| 236 | Tartaros Chapter, Prologue – The White Legacy | Manga Canon | 2015-06-06 |
| 237 | Tartaros Chapter, Prologue – Natsu vs. Jackal | Manga Canon | 2015-06-13 |
| 238 | Tartaros Chapter – Immorality and Sinners | Manga Canon | 2015-06-20 |
| 239 | Tartaros Chapter – Jellal vs. Oración Seis | Manga Canon | 2015-06-27 |
| 240 | Tartaros Chapter – A Place Reached by Prayer | Manga Canon | 2015-07-04 |
| 241 | Tartaros Chapter – The Demon's Rebirth | Manga Canon | 2015-07-11 |
| 242 | Tartaros Chapter – To Let Live or Die | Manga Canon | 2015-07-18 |
| 243 | Tartaros Chapter – Wendy vs. Ezel | Manga Canon | 2015-07-25 |
| 244 | Tartaros Chapter – Friends Forever | Manga Canon | 2015-08-01 |
| 245 | Tartaros Chapter – Hell's Core | Manga Canon | 2015-08-08 |
| 246 | Tartaros Chapter – Underworld King | Anime Canon | 2015-08-15 |
| 247 | Tartaros Chapter – Alegria | Manga Canon | 2015-08-22 |
| 248 | Tartaros Chapter – A Strike from the Stars | Manga Canon | 2015-08-29 |
| 249 | Tartaros Chapter – Celestial Spirit King vs. Underworld King | Manga Canon | 2015-09-05 |
| 250 | Tartaros Chapter – Erza vs. Minerva | Manga Canon | 2015-09-12 |
| 251 | Tartaros Chapter – The Boy's Tale | Manga Canon | 2015-09-19 |
| 252 | Tartaros Chapter – Gray vs. Silver | Manga Canon | 2015-09-26 |
| 253 | Tartaros Chapter – A Silver Wish | Manga Canon | 2015-10-03 |
| 254 | Tartaros Chapter – Air | Manga Canon | 2015-10-10 |
| 255 | Tartaros Chapter – Steel | Mixed Canon/Filler | 2015-10-17 |
| 256 | Tartaros Chapter – Final Duels | Anime Canon | 2015-10-24 |
| 257 | Tartaros Chapter – Wings of Despair | Manga Canon | 2015-10-31 |
| 258 | Tartaros Chapter – Fire Dragon Iron Fist | Manga Canon | 2015-11-07 |
| 259 | Tartaros Chapter – 00:00 | Manga Canon | 2015-11-14 |
| 260 | Tartaros Chapter – The Girl in the Crystal | Mixed Canon/Filler | 2015-11-21 |
| 261 | Tartaros Chapter – Absolute Demon | Manga Canon | 2015-11-28 |
| 262 | Tartaros Chapter – Memento Mori | Manga Canon | 2015-12-05 |
| 263 | Tartaros Chapter – Soaring Above Ishgar | Manga Canon | 2015-12-12 |
| 264 | Tartaros Chapter – Drops of Fire | Manga Canon | 2015-12-19 |
| 265 | Tartaros Chapter, Finale – Where the Power of Life Lies | Manga Canon | 2015-12-26 |
| 266 | The Fairy In Your Heart | Manga Canon | 2016-01-09 |
| 267 | The Adventure Begins | Manga Canon | 2016-01-16 |
| 268 | Treasure Hunt | Filler | 2016-01-23 |
| 269 | Dancing with Blades | Manga Canon | 2016-01-30 |
| 270 | Moonlit Lake | Mixed Canon/Filler | 2016-02-06 |
| 271 | Blue Skull | Manga Canon | 2016-02-13 |
| 272 | Conveyer of Magic | Manga Canon | 2016-02-20 |
| 273 | Treasure | Manga Canon | 2016-02-27 |
| 274 | Law | Manga Canon | 2016-03-05 |
| 275 | Eternal Adventure | Manga Canon | 2016-03-12 |
| 276 | Challenger | Manga Canon | 2016-03-19 |
| 277 | Message of Flame | Manga Canon | 2016-03-26 |
| 278 | The Lamia Scale Thanksgiving Festival | Manga Canon | 2018-10-07 |
| 279 | Because of Love | Manga Canon | 2018-10-14 |
| 280 | Avatar | Manga Canon | 2018-10-21 |
| 281 | Underground Clash | Manga Canon | 2018-10-28 |
| 282 | The Purification Plan | Manga Canon | 2018-11-04 |
| 283 | Ikusatsunagi | Manga Canon | 2018-11-11 |
| 284 | Memoirs | Manga Canon | 2018-11-18 |
| 285 | The 7th Guild Master | Manga Canon | 2018-11-25 |
| 286 | Law of Space | Manga Canon | 2018-12-02 |
| 287 | Emperor Spriggan | Manga Canon | 2018-12-09 |
| 288 | To the God-Forsaken Land | Manga Canon | 2018-12-16 |
| 289 | Mavis and Zeref | Manga Canon | 2018-12-23 |
| 290 | Fairy Heart | Manga Canon | 2019-01-06 |
| 291 | The Magnolia Defensive War | Manga Canon | 2019-01-13 |
| 292 | Morning Star | Manga Canon | 2019-01-20 |
| 293 | For Whom the Parfum Flows | Manga Canon | 2019-01-27 |
| 294 | Natsu vs. Zeref | Manga Canon | 2019-02-03 |
| 295 | Across 400 Years | Manga Canon | 2019-02-10 |
| 296 | What I Want to Do | Manga Canon | 2019-02-17 |
| 297 | Not Until the Battle is Over | Manga Canon | 2019-02-24 |
| 298 | In a Silent Time | Manga Canon | 2019-03-03 |
| 299 | Natsu, Revived!! | Manga Canon | 2019-03-10 |
| 300 | Historia of Corpses | Manga Canon | 2019-03-17 |
| 301 | Mettle | Manga Canon | 2019-03-24 |
| 302 | The Third Seal | Manga Canon | 2019-03-31 |
| 303 | Together, Always | Manga Canon | 2019-04-07 |
| 304 | Fairy Tail Zero | Manga Canon | 2019-04-14 |
| 305 | White Dragneel | Manga Canon | 2019-04-21 |
| 306 | The Winter Wizard | Manga Canon | 2019-04-28 |
| 307 | Gray and Juvia | Manga Canon | 2019-05-05 |
| 308 | The Mightiest Demon of the Book of Zeref | Manga Canon | 2019-05-12 |
| 309 | Broken Bonds | Manga Canon | 2019-05-19 |
| 310 | Pleasure and Pain | Manga Canon | 2019-05-26 |
| 311 | Natsu's Heart | Manga Canon | 2019-06-02 |
| 312 | Sting, the White Shadow Dragon | Mixed Canon/Filler | 2019-06-09 |
| 313 | Dragon Seed | Manga Canon | 2019-06-16 |
| 314 | Master Enchant | Manga Canon | 2019-06-23 |
| 315 | Dragon or Demon | Manga Canon | 2019-06-30 |
| 316 | Gray's Trump Card | Manga Canon | 2019-07-07 |
| 317 | Dark Future | Manga Canon | 2019-07-14 |
| 318 | My Name Is… | Manga Canon | 2019-07-21 |
| 319 | Feelings | Manga Canon | 2019-07-28 |
| 320 | Neo Eclipse | Manga Canon | 2019-08-04 |
| 321 | Blind to Love | Manga Canon | 2019-08-11 |
| 322 | The Gate of Vows | Manga Canon | 2019-08-18 |
| 323 | Raging Fire of the Dragon | Manga Canon | 2019-08-25 |
| 324 | When the Fire Dies | Manga Canon | 2019-09-01 |
| 325 | World Destruction | Manga Canon | 2019-09-08 |
| 326 | Magic of Hope | Manga Canon | 2019-09-15 |
| 327 | Hearts Connected | Manga Canon | 2019-09-22 |
| 328 | Dearest Friends | Manga Canon | 2019-09-29 |
| # | Title | Type | Airdate |
| --- | --- | --- | --- |
| 9 | Natsu Devours a Village | Filler | 2009-12-07 |
| 19 | Changeling | Filler | 2010-02-22 |
| 49 | The Day of the Fateful Encounter | Filler | 2010-10-11 |
| 50 | Special Request: Watch Out for the Guy You Like! | Filler | 2010-10-18 |
| 69 | Call of the Dragon | Filler | 2011-03-07 |
| 70 | Natsu vs. Gray!! | Filler | 2011-03-14 |
| 71 | Friendship Overcomes the Dead | Filler | 2011-03-21 |
| 72 | A Fairy Tail Wizard | Filler | 2011-03-28 |
| 73 | Rainbow Cherry Blossoms | Filler | 2011-04-04 |
| 74 | Wendy's First Big Job!? | Filler | 2011-04-11 |
| 75 | 24-Hour Endurance Road Race | Filler | 2011-04-16 |
| 125 | The Magic Ball | Filler | 2012-04-07 |
| 126 | True Scoundrels – The Butt Jiggle Gang | Filler | 2012-04-14 |
| 127 | The Terror of Invisible Lucy! | Filler | 2012-04-21 |
| 128 | Father's Memento | Filler | 2012-04-28 |
| 129 | Turbulent Showdown! Natsu vs. Laxus | Filler | 2012-05-05 |
| 130 | Target: Lucy | Filler | 2012-05-12 |
| 131 | The Fury of Legion | Filler | 2012-05-19 |
| 132 | Key of the Starry Heavens | Filler | 2012-05-26 |
| 133 | Travel Companions | Filler | 2012-06-02 |
| 134 | Labyrinth Capriccio | Filler | 2012-06-09 |
| 135 | Footprints of the Myth | Filler | 2012-06-16 |
| 136 | True Scoundrels, Once Again | Filler | 2012-06-23 |
| 137 | Defying Calculation | Filler | 2012-06-30 |
| 138 | The Course of the Holy War | Filler | 2012-07-07 |
| 139 | Time Begins to Tick | Filler | 2012-07-14 |
| 140 | Enter the Neo-Oración Seis! | Filler | 2012-07-21 |
| 141 | Get the Infinity Clock! | Filler | 2012-07-28 |
| 142 | Dissonance of Battle | Filler | 2012-08-04 |
| 143 | Anti-Link | Filler | 2012-08-11 |
| 144 | Despair Unleashed | Filler | 2012-08-18 |
| 145 | Real Nightmare | Filler | 2012-08-25 |
| 146 | Time Spiral | Filler | 2012-09-01 |
| 147 | To the Infinity Castle! | Filler | 2012-09-08 |
| 148 | Angel Tears | Filler | 2012-09-15 |
| 149 | I Hear the Voice of My Friend | Filler | 2012-09-22 |
| 150 | Lucy and Michelle | Filler | 2012-09-29 |
| 202 | Welcome Back, Frosch | Filler | 2014-10-03 |
| 203 | Moulin Rouge | Filler | 2014-10-11 |
| 204 | Full Effort Hospitality! | Filler | 2014-10-18 |
| 205 | Signal of Rebellion | Filler | 2014-10-25 |
| 206 | Library Panic | Filler | 2014-11-01 |
| 207 | Hisui Rises! | Filler | 2014-11-07 |
| 208 | Astral Spiritus | Filler | 2014-11-14 |
| 209 | Wendy vs. Aquarius – Let's Have Fun in the Amusement Park! | Filler | 2014-11-21 |
| 210 | Guild Deck vs. Celestial Deck | Filler | 2014-11-28 |
| 211 | Gray vs. Cancer! Dance Battle! | Filler | 2014-12-05 |
| 212 | Juvia vs. Aries! Desert Death Match! | Filler | 2014-12-12 |
| 213 | Erza vs. Sagittarius! Horseback Showdown! | Filler | 2014-12-19 |
| 214 | Natsu vs. Leo | Filler | 2014-12-26 |
| 215 | Ophiuchus, the Snake Charmer | Filler | 2015-01-09 |
| 216 | When the Stars Fall | Filler | 2015-01-16 |
| 217 | Celestial Spirit Beast | Filler | 2015-01-23 |
| 218 | Believe | Filler | 2015-01-30 |
| 219 | What a Pure Heart Weaves | Filler | 2015-02-06 |
| 220 | 413 Days | Filler | 2015-02-13 |
| 221 | The Labyrinth of White | Filler | 2015-02-20 |
| 222 | Transform! | Filler | 2015-02-28 |
| 223 | It's Kemo-Kemo! | Filler | 2015-03-07 |
| 224 | The Place You Came To | Filler | 2015-03-14 |
| 225 | Lightning Man | Filler | 2015-03-21 |
| 226 | Fairy Tail of the Dead Meeeeeeeeen | Filler | 2015-03-28 |
| 268 | Treasure Hunt | Filler | 2016-01-23 |
| # | Title | Type | Airdate |
| --- | --- | --- | --- |
| 1 | The Fairy Tail | Manga Canon | 2009-10-12 |
| 2 | Fire Dragon, Monkey, and Bull | Manga Canon | 2009-10-19 |
| 3 | Infiltrate the Everlue Mansion | Manga Canon | 2009-10-26 |
| 4 | Dear Kaby | Manga Canon | 2009-11-02 |
| 5 | The Wizard in Armor | Manga Canon | 2009-11-09 |
| 6 | Fairies in the Wind | Manga Canon | 2009-11-16 |
| 7 | Flame and Wind | Manga Canon | 2009-11-23 |
| 8 | The Strongest Team | Manga Canon | 2009-11-30 |
| 10 | Natsu vs. Erza | Manga Canon | 2009-12-14 |
| 11 | The Cursed Island | Manga Canon | 2009-12-21 |
| 12 | Moon Drip | Manga Canon | 2010-01-04 |
| 13 | Natsu vs. Yuka the Wave User | Manga Canon | 2010-01-11 |
| 14 | Just Do Whatever!! | Manga Canon | 2010-01-18 |
| 15 | Eternal Magic | Manga Canon | 2010-01-25 |
| 16 | The Final Showdown on Galuna Island | Manga Canon | 2010-02-01 |
| 17 | Burst | Manga Canon | 2010-02-08 |
| 18 | Reach the Sky Above | Manga Canon | 2010-02-15 |
| 20 | Natsu and the Dragon Egg | Mixed Canon/Filler | 2010-03-01 |
| 21 | The Phantom Lord | Manga Canon | 2010-03-08 |
| 22 | Lucy Heartfilia | Manga Canon | 2010-03-15 |
| 23 | 15 Minutes | Manga Canon | 2010-03-22 |
| 24 | To Keep From Seeing Those Tears | Manga Canon | 2010-03-29 |
| 25 | A Flower Blooms in the Rain | Manga Canon | 2010-04-12 |
| 26 | Wings of Flame | Manga Canon | 2010-04-19 |
| 27 | The Two Dragon Slayers | Manga Canon | 2010-04-26 |
| 28 | Fairy Law | Manga Canon | 2010-05-03 |
| 29 | My Resolve | Manga Canon | 2010-05-10 |
| 30 | Next Generation | Manga Canon | 2010-05-17 |
| 31 | A Star Removed from the Sky | Manga Canon | 2010-05-24 |
| 32 | Celestial Spirit King | Manga Canon | 2010-05-31 |
| 33 | The Tower of Heaven | Manga Canon | 2010-06-07 |
| 34 | Jellal | Manga Canon | 2010-06-21 |
| 35 | Voice of Darkness | Manga Canon | 2010-06-28 |
| 36 | Heaven's Game | Manga Canon | 2010-07-05 |
| 37 | Armor of the Heart | Manga Canon | 2010-07-12 |
| 38 | Destiny | Manga Canon | 2010-07-19 |
| 39 | Give Our Prayers to the Sacred Light | Manga Canon | 2010-07-26 |
| 40 | Titania Falls | Manga Canon | 2010-08-02 |
| 41 | Home | Manga Canon | 2010-08-09 |
| 42 | Battle of Fairy Tail | Manga Canon | 2010-08-16 |
| 43 | Defeat Your Friends to Save Your Friends | Manga Canon | 2010-08-23 |
| 44 | Thunder Palace | Manga Canon | 2010-08-30 |
| 45 | Advent of Satan | Manga Canon | 2010-09-06 |
| 46 | Clash at Kardia Cathedral! | Manga Canon | 2010-09-13 |
| 47 | Triple Dragons | Manga Canon | 2010-09-20 |
| 48 | Fantasia | Manga Canon | 2010-09-27 |
| 51 | Love & Lucky | Manga Canon | 2010-10-25 |
| 52 | Allied Forces, Assemble! | Manga Canon | 2010-11-01 |
| 53 | Enter the Oración Seis! | Manga Canon | 2010-11-08 |
| 54 | Maiden of the Sky | Manga Canon | 2010-11-15 |
| 55 | The Girl and the Ghost | Manga Canon | 2010-11-22 |
| 56 | Dead Grand Prix | Manga Canon | 2010-11-29 |
| 57 | Darkness | Manga Canon | 2010-12-06 |
| 58 | Celestial Skirmish | Manga Canon | 2010-12-13 |
| 59 | Jellal of Days Gone By | Manga Canon | 2010-12-20 |
| 60 | March of Destruction | Manga Canon | 2010-12-27 |
| 61 | Super Aerial Battle: Natsu vs. Cobra! | Manga Canon | 2011-01-10 |
| 62 | Wizard Saint Jura | Manga Canon | 2011-01-17 |
| 63 | Your Words | Manga Canon | 2011-01-24 |
| 64 | Zero | Manga Canon | 2011-01-31 |
| 65 | From Pegasus to Fairies | Manga Canon | 2011-02-07 |
| 66 | The Power of Feelings | Manga Canon | 2011-02-14 |
| 67 | I'm With You | Manga Canon | 2011-02-21 |
| 68 | A Guild for One | Manga Canon | 2011-02-28 |
| 76 | Gildarts | Manga Canon | 2011-04-23 |
| 77 | Earth Land | Manga Canon | 2011-04-30 |
| 78 | Edolas | Manga Canon | 2011-05-07 |
| 79 | Fairy Hunter | Manga Canon | 2011-05-14 |
| 80 | Key of Hope | Manga Canon | 2011-05-21 |
| 81 | Fireball | Manga Canon | 2011-05-28 |
| 82 | Welcome Home | Manga Canon | 2011-06-04 |
| 83 | Extalia | Manga Canon | 2011-06-11 |
| 84 | Fly, to Our Friends! | Manga Canon | 2011-06-18 |
| 85 | Code ETD | Manga Canon | 2011-06-25 |
| 86 | Erza vs. Erza | Manga Canon | 2011-07-02 |
| 87 | We're Talking About Lives Here!!!! | Manga Canon | 2011-07-09 |
| 88 | For Pride's Sake, the River of Stars | Manga Canon | 2011-07-16 |
| 89 | The Apocalyptic Dragon Chain Cannon | Manga Canon | 2011-07-23 |
| 90 | The Boy Back Then | Manga Canon | 2011-07-30 |
| 91 | Dragon Sense | Manga Canon | 2011-08-06 |
| 92 | O Living Ones | Manga Canon | 2011-08-13 |
| 93 | I'm Standing Right Here | Manga Canon | 2011-08-20 |
| 94 | Bye-Bye, Edolas | Manga Canon | 2011-08-27 |
| 95 | Lisanna | Manga Canon | 2011-09-03 |
| 96 | He Who Extinguishes Life | Manga Canon | 2011-09-10 |
| 97 | Best Partners | Manga Canon | 2011-09-17 |
| 98 | Who's the Lucky One? | Manga Canon | 2011-09-24 |
| 99 | Natsu vs. Gildarts | Manga Canon | 2011-10-01 |
| 100 | Mest | Manga Canon | 2011-10-08 |
| 101 | Black Wizard | Manga Canon | 2011-10-15 |
| 102 | Iron Soul | Manga Canon | 2011-10-22 |
| 103 | Makarov Charges | Manga Canon | 2011-10-29 |
| 104 | Lost Magic | Manga Canon | 2011-11-05 |
| 105 | Fire Dragon vs. Flame God | Manga Canon | 2011-11-12 |
| 106 | Grand Magic World | Manga Canon | 2011-11-19 |
| 107 | Arc of Embodiment | Manga Canon | 2011-11-26 |
| 108 | Human Gate | Manga Canon | 2011-12-03 |
| 109 | Lucy Fire | Manga Canon | 2011-12-10 |
| 110 | Dead-End of Despair | Manga Canon | 2011-12-17 |
| 111 | Tears of Love and Vitality | Manga Canon | 2011-12-24 |
| 112 | The One Thing I Couldn't Say | Manga Canon | 2012-01-07 |
| 113 | Tenrou Tree | Manga Canon | 2012-01-14 |
| 114 | Erza vs. Azuma | Manga Canon | 2012-01-21 |
| 115 | Freezing Fighting Spirit | Manga Canon | 2012-01-28 |
| 116 | Power of Life | Manga Canon | 2012-02-04 |
| 117 | Rolling Thunder | Manga Canon | 2012-02-11 |
| 118 | The Man Without an Emblem | Manga Canon | 2012-02-18 |
| 119 | Realm of the Abyss | Manga Canon | 2012-02-25 |
| 120 | Daybreak on Tenrou Island | Manga Canon | 2012-03-02 |
| 121 | The Right To Love | Manga Canon | 2012-03-09 |
| 122 | Let's Hold Hands | Manga Canon | 2012-03-16 |
| 123 | Fairy Tail, Year X791 | Manga Canon | 2012-03-23 |
| 124 | The Seven Year Gap | Manga Canon | 2012-03-31 |
| 151 | Sabertooth | Mixed Canon/Filler | 2012-10-06 |
| 152 | And So We Aim for the Top | Manga Canon | 2012-10-13 |
| 153 | Song of the Stars | Manga Canon | 2012-10-20 |
| 154 | For All the Time We Missed Each Other | Manga Canon | 2012-10-27 |
| 155 | Crocus, the Flower-Blooming Capital | Manga Canon | 2012-11-03 |
| 156 | Sky Labyrinth | Manga Canon | 2012-11-10 |
| 157 | New Guild | Manga Canon | 2012-11-17 |
| 158 | Night of Shooting Stars | Manga Canon | 2012-11-24 |
| 159 | Lucy vs. Flare | Manga Canon | 2012-12-01 |
| 160 | Portent | Manga Canon | 2012-12-08 |
| 161 | Chariots | Manga Canon | 2012-12-15 |
| 162 | Elfman vs. Bacchus | Manga Canon | 2012-12-22 |
| 163 | Mirajane vs. Jenny | Manga Canon | 2013-01-05 |
| 164 | Kagura vs. Yukino | Manga Canon | 2013-01-12 |
| 165 | Hatred at Nightfall | Manga Canon | 2013-01-19 |
| 166 | Pandemonium | Manga Canon | 2013-01-26 |
| 167 | 100 Against 1 | Manga Canon | 2013-02-02 |
| 168 | Laxus vs. Alexei | Manga Canon | 2013-02-09 |
| 169 | Wendy vs. Shelia | Manga Canon | 2013-02-16 |
| 170 | Small Fists | Manga Canon | 2013-02-23 |
| 171 | Naval Battle | Manga Canon | 2013-03-02 |
| 172 | A Parfum For You | Manga Canon | 2013-03-09 |
| 173 | Battle of the Dragon Slayers! | Manga Canon | 2013-03-16 |
| 174 | Four Dragons | Manga Canon | 2013-03-23 |
| 175 | Natsu vs. the Twin Dragons | Manga Canon | 2013-03-30 |
| 176 | King of the Dragons | Manga Canon | 2014-04-05 |
| 177 | The Eclipse Project | Manga Canon | 2014-04-12 |
| 178 | Fairy Tactician | Manga Canon | 2014-04-19 |
| 179 | Gray vs. Rufus | Manga Canon | 2014-04-26 |
| 180 | The Hungry Wolf Knights | Manga Canon | 2014-05-03 |
| 181 | Fairy Tail vs. Executioners | Manga Canon | 2014-05-10 |
| 182 | Scorching Earth | Manga Canon | 2014-05-17 |
| 183 | Our Place | Manga Canon | 2014-05-24 |
| 184 | The Kingdom 'til Tomorrow | Manga Canon | 2014-05-31 |
| 185 | Erza vs. Kagura | Manga Canon | 2014-06-07 |
| 186 | A Future Racing Toward Despair | Manga Canon | 2014-06-14 |
| 187 | Frog | Manga Canon | 2014-06-21 |
| 188 | Roaring Thunder! | Manga Canon | 2014-06-28 |
| 189 | Gloria | Manga Canon | 2014-07-05 |
| 190 | The One Who Closes the Gate | Manga Canon | 2014-07-12 |
| 191 | Natsu vs. Rogue | Manga Canon | 2014-07-19 |
| 192 | For Me, Too | Manga Canon | 2014-07-26 |
| 193 | Seven Dragons | Manga Canon | 2014-08-02 |
| 194 | Zirconis' Magic | Manga Canon | 2014-08-09 |
| 195 | People and People, Dragons and Dragons, People and Dragons | Manga Canon | 2014-08-16 |
| 196 | Sin and Sacrifice | Manga Canon | 2014-08-23 |
| 197 | Time of Life | Manga Canon | 2014-08-30 |
| 198 | Fields of Gold | Manga Canon | 2014-09-06 |
| 199 | The Grand Banquet | Manga Canon | 2014-09-13 |
| 200 | Droplets of Time | Manga Canon | 2014-09-20 |
| 201 | A Gift | Mixed Canon/Filler | 2014-09-27 |
| 227 | Morning of a New Adventure | Manga Canon | 2015-04-04 |
| 228 | Wizards vs. Hunters | Manga Canon | 2015-04-11 |
| 229 | Art of Regression | Manga Canon | 2015-04-18 |
| 230 | The Demon Returns | Manga Canon | 2015-04-25 |
| 231 | Gray vs. Doriate | Manga Canon | 2015-05-02 |
| 232 | Voice of the Flame | Manga Canon | 2015-05-09 |
| 233 | Song of the Fairies | Manga Canon | 2015-05-16 |
| 234 | Tartaros Chapter, Prologue – The Nine Demon Gates | Manga Canon | 2015-05-23 |
| 235 | Tartaros Chapter, Prologue – Fairies vs. Netherworld | Manga Canon | 2015-05-30 |
| 236 | Tartaros Chapter, Prologue – The White Legacy | Manga Canon | 2015-06-06 |
| 237 | Tartaros Chapter, Prologue – Natsu vs. Jackal | Manga Canon | 2015-06-13 |
| 238 | Tartaros Chapter – Immorality and Sinners | Manga Canon | 2015-06-20 |
| 239 | Tartaros Chapter – Jellal vs. Oración Seis | Manga Canon | 2015-06-27 |
| 240 | Tartaros Chapter – A Place Reached by Prayer | Manga Canon | 2015-07-04 |
| 241 | Tartaros Chapter – The Demon's Rebirth | Manga Canon | 2015-07-11 |
| 242 | Tartaros Chapter – To Let Live or Die | Manga Canon | 2015-07-18 |
| 243 | Tartaros Chapter – Wendy vs. Ezel | Manga Canon | 2015-07-25 |
| 244 | Tartaros Chapter – Friends Forever | Manga Canon | 2015-08-01 |
| 245 | Tartaros Chapter – Hell's Core | Manga Canon | 2015-08-08 |
| 246 | Tartaros Chapter – Underworld King | Anime Canon | 2015-08-15 |
| 247 | Tartaros Chapter – Alegria | Manga Canon | 2015-08-22 |
| 248 | Tartaros Chapter – A Strike from the Stars | Manga Canon | 2015-08-29 |
| 249 | Tartaros Chapter – Celestial Spirit King vs. Underworld King | Manga Canon | 2015-09-05 |
| 250 | Tartaros Chapter – Erza vs. Minerva | Manga Canon | 2015-09-12 |
| 251 | Tartaros Chapter – The Boy's Tale | Manga Canon | 2015-09-19 |
| 252 | Tartaros Chapter – Gray vs. Silver | Manga Canon | 2015-09-26 |
| 253 | Tartaros Chapter – A Silver Wish | Manga Canon | 2015-10-03 |
| 254 | Tartaros Chapter – Air | Manga Canon | 2015-10-10 |
| 255 | Tartaros Chapter – Steel | Mixed Canon/Filler | 2015-10-17 |
| 256 | Tartaros Chapter – Final Duels | Anime Canon | 2015-10-24 |
| 257 | Tartaros Chapter – Wings of Despair | Manga Canon | 2015-10-31 |
| 258 | Tartaros Chapter – Fire Dragon Iron Fist | Manga Canon | 2015-11-07 |
| 259 | Tartaros Chapter – 00:00 | Manga Canon | 2015-11-14 |
| 260 | Tartaros Chapter – The Girl in the Crystal | Mixed Canon/Filler | 2015-11-21 |
| 261 | Tartaros Chapter – Absolute Demon | Manga Canon | 2015-11-28 |
| 262 | Tartaros Chapter – Memento Mori | Manga Canon | 2015-12-05 |
| 263 | Tartaros Chapter – Soaring Above Ishgar | Manga Canon | 2015-12-12 |
| 264 | Tartaros Chapter – Drops of Fire | Manga Canon | 2015-12-19 |
| 265 | Tartaros Chapter, Finale – Where the Power of Life Lies | Manga Canon | 2015-12-26 |
| 266 | The Fairy In Your Heart | Manga Canon | 2016-01-09 |
| 267 | The Adventure Begins | Manga Canon | 2016-01-16 |
| 269 | Dancing with Blades | Manga Canon | 2016-01-30 |
| 270 | Moonlit Lake | Mixed Canon/Filler | 2016-02-06 |
| 271 | Blue Skull | Manga Canon | 2016-02-13 |
| 272 | Conveyer of Magic | Manga Canon | 2016-02-20 |
| 273 | Treasure | Manga Canon | 2016-02-27 |
| 274 | Law | Manga Canon | 2016-03-05 |
| 275 | Eternal Adventure | Manga Canon | 2016-03-12 |
| 276 | Challenger | Manga Canon | 2016-03-19 |
| 277 | Message of Flame | Manga Canon | 2016-03-26 |
| 278 | The Lamia Scale Thanksgiving Festival | Manga Canon | 2018-10-07 |
| 279 | Because of Love | Manga Canon | 2018-10-14 |
| 280 | Avatar | Manga Canon | 2018-10-21 |
| 281 | Underground Clash | Manga Canon | 2018-10-28 |
| 282 | The Purification Plan | Manga Canon | 2018-11-04 |
| 283 | Ikusatsunagi | Manga Canon | 2018-11-11 |
| 284 | Memoirs | Manga Canon | 2018-11-18 |
| 285 | The 7th Guild Master | Manga Canon | 2018-11-25 |
| 286 | Law of Space | Manga Canon | 2018-12-02 |
| 287 | Emperor Spriggan | Manga Canon | 2018-12-09 |
| 288 | To the God-Forsaken Land | Manga Canon | 2018-12-16 |
| 289 | Mavis and Zeref | Manga Canon | 2018-12-23 |
| 290 | Fairy Heart | Manga Canon | 2019-01-06 |
| 291 | The Magnolia Defensive War | Manga Canon | 2019-01-13 |
| 292 | Morning Star | Manga Canon | 2019-01-20 |
| 293 | For Whom the Parfum Flows | Manga Canon | 2019-01-27 |
| 294 | Natsu vs. Zeref | Manga Canon | 2019-02-03 |
| 295 | Across 400 Years | Manga Canon | 2019-02-10 |
| 296 | What I Want to Do | Manga Canon | 2019-02-17 |
| 297 | Not Until the Battle is Over | Manga Canon | 2019-02-24 |
| 298 | In a Silent Time | Manga Canon | 2019-03-03 |
| 299 | Natsu, Revived!! | Manga Canon | 2019-03-10 |
| 300 | Historia of Corpses | Manga Canon | 2019-03-17 |
| 301 | Mettle | Manga Canon | 2019-03-24 |
| 302 | The Third Seal | Manga Canon | 2019-03-31 |
| 303 | Together, Always | Manga Canon | 2019-04-07 |
| 304 | Fairy Tail Zero | Manga Canon | 2019-04-14 |
| 305 | White Dragneel | Manga Canon | 2019-04-21 |
| 306 | The Winter Wizard | Manga Canon | 2019-04-28 |
| 307 | Gray and Juvia | Manga Canon | 2019-05-05 |
| 308 | The Mightiest Demon of the Book of Zeref | Manga Canon | 2019-05-12 |
| 309 | Broken Bonds | Manga Canon | 2019-05-19 |
| 310 | Pleasure and Pain | Manga Canon | 2019-05-26 |
| 311 | Natsu's Heart | Manga Canon | 2019-06-02 |
| 312 | Sting, the White Shadow Dragon | Mixed Canon/Filler | 2019-06-09 |
| 313 | Dragon Seed | Manga Canon | 2019-06-16 |
| 314 | Master Enchant | Manga Canon | 2019-06-23 |
| 315 | Dragon or Demon | Manga Canon | 2019-06-30 |
| 316 | Gray's Trump Card | Manga Canon | 2019-07-07 |
| 317 | Dark Future | Manga Canon | 2019-07-14 |
| 318 | My Name Is… | Manga Canon | 2019-07-21 |
| 319 | Feelings | Manga Canon | 2019-07-28 |
| 320 | Neo Eclipse | Manga Canon | 2019-08-04 |
| 321 | Blind to Love | Manga Canon | 2019-08-11 |
| 322 | The Gate of Vows | Manga Canon | 2019-08-18 |
| 323 | Raging Fire of the Dragon | Manga Canon | 2019-08-25 |
| 324 | When the Fire Dies | Manga Canon | 2019-09-01 |
| 325 | World Destruction | Manga Canon | 2019-09-08 |
| 326 | Magic of Hope | Manga Canon | 2019-09-15 |
| 327 | Hearts Connected | Manga Canon | 2019-09-22 |
| 328 | Dearest Friends | Manga Canon | 2019-09-29 |
Fairy Tail Filler List
Fairy tail, with its unique and intriguing plot has managed to become one of the most favourite anime of viewers no matter how long ago it aired. Are you another one of these anime fans who has finally given in to the peer pressure and decided to watch Fairy Tail? 
If you intend to finish the series as soon as possible and want to stick to the plot only, then it is highly important for you to skip the Fairy tail filler episodes. We have compiled this article to help you fulfil this wish and make the most out of Fairy tail anime produced by A1-Pictures. 
How many filler episodes does Fairy tail have?
Like most of the anime shows, fairy tail is also taken from a manga series. These are written by Hiro Mashima and consist of sixty three volumes in total. You might think that given this plenty of source material, there might be no need to make filler episodes of Fairy tail.
However, this is not the case given the almost ten year long run time of Fairy tail. The series managed to make use of all of the source material and hence have a low but still existent 19% filler episode rate. This means that from the 328 total episodes of the anime, 63 were fillers and irrelevant to the actual storyline. 
How can I skip the filler episodes? 
We understand that given the numerous episodes of the anime, you might want to skip the fillers and finish the series in as little time as possible. For this reason, we have enlisted every Fairy Tail's filler episode name and number on our website. You can easily browse through this and stick to watching the canon episodes only!
Related Fillers