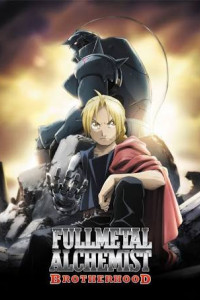 | # | Title | Type | Airdate |
| --- | --- | --- | --- |
| 1 | Fullmetal Alchemist | Filler | 2009-04-05 |
| 2 | The First Day | Manga Canon | 2009-04-12 |
| 3 | City of Heresy | Manga Canon | 2009-04-19 |
| 4 | An Alchemist's Anguish | Mixed Canon/Filler | 2009-04-26 |
| 5 | Rain of Sorrows | Manga Canon | 2009-05-03 |
| 6 | Road of Hope | Manga Canon | 2009-05-10 |
| 7 | Hidden Truths | Manga Canon | 2009-05-17 |
| 8 | The Fifth Laboratory | Manga Canon | 2009-05-24 |
| 9 | Created Feelings | Mixed Canon/Filler | 2009-05-31 |
| 10 | Separate Destinations | Manga Canon | 2009-06-07 |
| 11 | Miracle at Rush Valley | Manga Canon | 2009-06-14 |
| 12 | One is All, All is One | Manga Canon | 2009-06-21 |
| 13 | Beasts of Dublith | Mixed Canon/Filler | 2009-06-28 |
| 14 | Those Who Lurk Underground | Mixed Canon/Filler | 2009-07-05 |
| 15 | Envoy From the East | Manga Canon | 2009-07-12 |
| 16 | Footsteps of a Comrade-in-Arms | Manga Canon | 2009-07-19 |
| 17 | Cold Flame | Manga Canon | 2009-07-26 |
| 18 | The Arrogant Palm of a Small Human | Manga Canon | 2009-08-02 |
| 19 | Death of the Undying | Manga Canon | 2009-08-09 |
| 20 | Father Before the Grave | Manga Canon | 2009-08-16 |
| 21 | Advance of the Fool | Manga Canon | 2009-08-30 |
| 22 | Backs in the Distance | Manga Canon | 2009-09-06 |
| 23 | Girl on the Battlefield | Manga Canon | 2009-09-13 |
| 24 | Inside the Belly | Manga Canon | 2009-09-20 |
| 25 | Doorway of Darkness | Manga Canon | 2009-09-27 |
| 26 | Reunion | Manga Canon | 2009-10-04 |
| 27 | Interlude Party | Filler | 2009-10-11 |
| 28 | Father | Manga Canon | 2009-10-18 |
| 29 | Struggle of the Fool | Manga Canon | 2009-10-25 |
| 30 | The Ishvalan War of Extermination | Manga Canon | 2009-11-01 |
| 31 | The 520 Cens Promise | Manga Canon | 2009-11-08 |
| 32 | The Fuhrer's Son | Manga Canon | 2009-11-15 |
| 33 | The Northern Wall of Briggs | Manga Canon | 2009-11-22 |
| 34 | Ice Queen | Manga Canon | 2009-11-29 |
| 35 | The Shape of This Country | Manga Canon | 2009-12-06 |
| 36 | Family Portrait | Manga Canon | 2009-12-13 |
| 37 | The First Homunculus | Manga Canon | 2009-12-20 |
| 38 | Conflict at Baschool | Manga Canon | 2009-12-27 |
| 39 | Daydream | Manga Canon | 2010-01-10 |
| 40 | Homunculus (The Dwarf in the Flask) | Manga Canon | 2010-01-17 |
| 41 | The Abyss | Manga Canon | 2010-01-24 |
| 42 | Signs of a Counteroffensive | Manga Canon | 2010-01-31 |
| 43 | Bite of the Ant | Manga Canon | 2010-02-07 |
| 44 | Revving at Full Throttle | Manga Canon | 2010-02-14 |
| 45 | The Promised Day | Manga Canon | 2010-02-21 |
| 46 | Looming Shadows | Manga Canon | 2010-02-28 |
| 47 | Emissary of Darkness | Manga Canon | 2010-03-07 |
| 48 | The Oath in the Tunnel | Manga Canon | 2010-03-14 |
| 49 | Filial Affection | Manga Canon | 2010-03-21 |
| 50 | Upheaval in Central | Manga Canon | 2010-03-28 |
| 51 | The Immortal Legion | Manga Canon | 2010-04-04 |
| 52 | Combined Strength | Manga Canon | 2010-04-11 |
| 53 | Flame of Vengeance | Manga Canon | 2010-04-18 |
| 54 | Beyond the Inferno | Manga Canon | 2010-04-25 |
| 55 | The Adults' Way of Life | Manga Canon | 2010-05-02 |
| 56 | The Return of the Fuhrer | Manga Canon | 2010-05-09 |
| 57 | Eternal Leave | Manga Canon | 2010-05-16 |
| 58 | Sacrifices | Manga Canon | 2010-05-23 |
| 59 | Lost Light | Manga Canon | 2010-05-30 |
| 60 | Eye of Heaven, Gateway of Earth | Manga Canon | 2010-06-06 |
| 61 | He Who Would Swallow God | Manga Canon | 2010-06-13 |
| 62 | A Fierce Counterattack | Manga Canon | 2010-06-20 |
| 63 | The Other Side of the Gateway | Manga Canon | 2010-06-27 |
| 64 | Journey's End | Manga Canon | 2010-07-04 |
| # | Title | Type | Airdate |
| --- | --- | --- | --- |
| 1 | Fullmetal Alchemist | Filler | 2009-04-05 |
| 27 | Interlude Party | Filler | 2009-10-11 |
| # | Title | Type | Airdate |
| --- | --- | --- | --- |
| 2 | The First Day | Manga Canon | 2009-04-12 |
| 3 | City of Heresy | Manga Canon | 2009-04-19 |
| 4 | An Alchemist's Anguish | Mixed Canon/Filler | 2009-04-26 |
| 5 | Rain of Sorrows | Manga Canon | 2009-05-03 |
| 6 | Road of Hope | Manga Canon | 2009-05-10 |
| 7 | Hidden Truths | Manga Canon | 2009-05-17 |
| 8 | The Fifth Laboratory | Manga Canon | 2009-05-24 |
| 9 | Created Feelings | Mixed Canon/Filler | 2009-05-31 |
| 10 | Separate Destinations | Manga Canon | 2009-06-07 |
| 11 | Miracle at Rush Valley | Manga Canon | 2009-06-14 |
| 12 | One is All, All is One | Manga Canon | 2009-06-21 |
| 13 | Beasts of Dublith | Mixed Canon/Filler | 2009-06-28 |
| 14 | Those Who Lurk Underground | Mixed Canon/Filler | 2009-07-05 |
| 15 | Envoy From the East | Manga Canon | 2009-07-12 |
| 16 | Footsteps of a Comrade-in-Arms | Manga Canon | 2009-07-19 |
| 17 | Cold Flame | Manga Canon | 2009-07-26 |
| 18 | The Arrogant Palm of a Small Human | Manga Canon | 2009-08-02 |
| 19 | Death of the Undying | Manga Canon | 2009-08-09 |
| 20 | Father Before the Grave | Manga Canon | 2009-08-16 |
| 21 | Advance of the Fool | Manga Canon | 2009-08-30 |
| 22 | Backs in the Distance | Manga Canon | 2009-09-06 |
| 23 | Girl on the Battlefield | Manga Canon | 2009-09-13 |
| 24 | Inside the Belly | Manga Canon | 2009-09-20 |
| 25 | Doorway of Darkness | Manga Canon | 2009-09-27 |
| 26 | Reunion | Manga Canon | 2009-10-04 |
| 28 | Father | Manga Canon | 2009-10-18 |
| 29 | Struggle of the Fool | Manga Canon | 2009-10-25 |
| 30 | The Ishvalan War of Extermination | Manga Canon | 2009-11-01 |
| 31 | The 520 Cens Promise | Manga Canon | 2009-11-08 |
| 32 | The Fuhrer's Son | Manga Canon | 2009-11-15 |
| 33 | The Northern Wall of Briggs | Manga Canon | 2009-11-22 |
| 34 | Ice Queen | Manga Canon | 2009-11-29 |
| 35 | The Shape of This Country | Manga Canon | 2009-12-06 |
| 36 | Family Portrait | Manga Canon | 2009-12-13 |
| 37 | The First Homunculus | Manga Canon | 2009-12-20 |
| 38 | Conflict at Baschool | Manga Canon | 2009-12-27 |
| 39 | Daydream | Manga Canon | 2010-01-10 |
| 40 | Homunculus (The Dwarf in the Flask) | Manga Canon | 2010-01-17 |
| 41 | The Abyss | Manga Canon | 2010-01-24 |
| 42 | Signs of a Counteroffensive | Manga Canon | 2010-01-31 |
| 43 | Bite of the Ant | Manga Canon | 2010-02-07 |
| 44 | Revving at Full Throttle | Manga Canon | 2010-02-14 |
| 45 | The Promised Day | Manga Canon | 2010-02-21 |
| 46 | Looming Shadows | Manga Canon | 2010-02-28 |
| 47 | Emissary of Darkness | Manga Canon | 2010-03-07 |
| 48 | The Oath in the Tunnel | Manga Canon | 2010-03-14 |
| 49 | Filial Affection | Manga Canon | 2010-03-21 |
| 50 | Upheaval in Central | Manga Canon | 2010-03-28 |
| 51 | The Immortal Legion | Manga Canon | 2010-04-04 |
| 52 | Combined Strength | Manga Canon | 2010-04-11 |
| 53 | Flame of Vengeance | Manga Canon | 2010-04-18 |
| 54 | Beyond the Inferno | Manga Canon | 2010-04-25 |
| 55 | The Adults' Way of Life | Manga Canon | 2010-05-02 |
| 56 | The Return of the Fuhrer | Manga Canon | 2010-05-09 |
| 57 | Eternal Leave | Manga Canon | 2010-05-16 |
| 58 | Sacrifices | Manga Canon | 2010-05-23 |
| 59 | Lost Light | Manga Canon | 2010-05-30 |
| 60 | Eye of Heaven, Gateway of Earth | Manga Canon | 2010-06-06 |
| 61 | He Who Would Swallow God | Manga Canon | 2010-06-13 |
| 62 | A Fierce Counterattack | Manga Canon | 2010-06-20 |
| 63 | The Other Side of the Gateway | Manga Canon | 2010-06-27 |
| 64 | Journey's End | Manga Canon | 2010-07-04 |
Fullmetal alchemist: Brotherhood Filler List
By now, every anime fan knows that any show that is produced by the Bones studio house is definitely worth watching. Similarly, promoting the rare genre of steampunk by mixing it with a blend of adventure and fantasy, Bones brings to you the latest anime adaption of Fullmetal Alchemist: Brotherhood series.
Does the name Fullmetal Alchemist sound familiar to you? That is because this is not the first time that the phenomenal manga novels written by Hiromu Arakawa are being adapted on your television screens. FullMetal Alchemist aired in early 2003s, whereas FullMetal Alchemist: Brotherhood is its latest edition that aired between 2009 and 2010.
Synopsis of FullMetal Alchemist: Brotherhood
Unlike its preceding version, FullMetal Alchemist Brotherhood sticks to its original manga version as the sole source material. It follows the story of two brothers called Edward and Alphonse who were raised in a society that worshipped the art of alchemy dedicatedly. They were raised by their single mother as their father, also an alchemist, left them early during their childhood.
The anime follows the ventures of Edward and Alphonse losing their mother to a lingering illness and in a desperate attempt to bring her back, damaging their bodies completely. As they seek out to find the Philosopher's stone and make their bodies normal again, they unravel the biggest conspiracy revolving around that stone and their father's departure.
How many filler episodes does Fullmetal alchemist: Brotherhood have?
The anime series was much more popular than its previous version because of its plot converging with that of its Manga series. With a run time of almost an year, Fullmetal Alchemist: Brotherhood contains a total of sixty-four episodes. These have a high canon and canon and filler mix episode ratio but barely contain one entire filler episode.
Supporting an incredibly low filler rate percentage of two, you can binge watch Fullmetal Alchemist: Brotherhood without getting distracted because of too many irrelevant details and join Edward and Alphonse in their quest to uncover the secrets of their government and the stone.