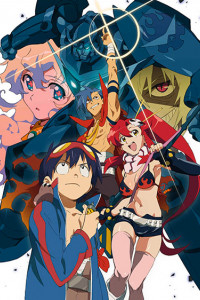 | # | Title | Type | Airdate |
| --- | --- | --- | --- |
| 1 | Bust Through The Heavens With Your Drill! | Manga Canon | 2007-04-01 |
| 2 | I Said I'm Gonna Pilot That Thing! | Manga Canon | 2007-04-08 |
| 3 | Who Do You Think You Are, Having Two Faces!? | Manga Canon | 2007-04-15 |
| 4 | Having Lots of Faces Doesn't Make You Great! | Manga Canon | 2007-04-22 |
| 5 | I Don't Get It, Not One Damn Bit! | Manga Canon | 2007-04-29 |
| 6 | Sit in the Hot Tub 'Till You're Sick!! | Manga Canon | 2007-05-06 |
| 7 | You're Gonna Do It!! | Manga Canon | 2007-05-13 |
| 8 | Later Buddy | Manga Canon | 2007-05-20 |
| 9 | What Exactly, is a Human? | Manga Canon | 2007-05-27 |
| 10 | Who Is This Bro? | Manga Canon | 2007-06-03 |
| 11 | Simon, Hands Off | Manga Canon | 2007-06-10 |
| 12 | Yoko, Will You Do Me a Favor? | Manga Canon | 2007-06-17 |
| 13 | Eat Up, Everyone! | Manga Canon | 2007-06-24 |
| 14 | Well Met, Everyone | Manga Canon | 2007-07-01 |
| 15 | I Will Head Towards Tomorrow | Manga Canon | 2007-07-08 |
| 16 | Compilation Episode | Filler | 2007-07-15 |
| 17 | You Don't Know Anything! | Manga Canon | 2007-07-15 |
| 18 | Tell Me the Secrets of This World | Manga Canon | 2007-07-29 |
| 19 | We Will Survive By Any Means Necessary | Manga Canon | 2007-08-05 |
| 20 | How Far Will God Test Us? | Manga Canon | 2007-08-12 |
| 21 | You Are Someone Who Ought To Survive | Manga Canon | 2007-08-19 |
| 22 | That Is My Last Duty | Manga Canon | 2007-08-26 |
| 23 | Let's Go, This Is The Final Battle | Manga Canon | 2007-09-02 |
| 24 | I'll Never Forget This Minute, This Second | Manga Canon | 2007-09-09 |
| 25 | I Accept Your Last Wish! | Manga Canon | 2007-09-16 |
| 26 | Let's Go, Buddy | Manga Canon | 2007-09-23 |
| 27 | The Lights In The Sky Are Stars | Manga Canon | 2007-09-30 |
| # | Title | Type | Airdate |
| --- | --- | --- | --- |
| 16 | Compilation Episode | Filler | 2007-07-15 |
| # | Title | Type | Airdate |
| --- | --- | --- | --- |
| 1 | Bust Through The Heavens With Your Drill! | Manga Canon | 2007-04-01 |
| 2 | I Said I'm Gonna Pilot That Thing! | Manga Canon | 2007-04-08 |
| 3 | Who Do You Think You Are, Having Two Faces!? | Manga Canon | 2007-04-15 |
| 4 | Having Lots of Faces Doesn't Make You Great! | Manga Canon | 2007-04-22 |
| 5 | I Don't Get It, Not One Damn Bit! | Manga Canon | 2007-04-29 |
| 6 | Sit in the Hot Tub 'Till You're Sick!! | Manga Canon | 2007-05-06 |
| 7 | You're Gonna Do It!! | Manga Canon | 2007-05-13 |
| 8 | Later Buddy | Manga Canon | 2007-05-20 |
| 9 | What Exactly, is a Human? | Manga Canon | 2007-05-27 |
| 10 | Who Is This Bro? | Manga Canon | 2007-06-03 |
| 11 | Simon, Hands Off | Manga Canon | 2007-06-10 |
| 12 | Yoko, Will You Do Me a Favor? | Manga Canon | 2007-06-17 |
| 13 | Eat Up, Everyone! | Manga Canon | 2007-06-24 |
| 14 | Well Met, Everyone | Manga Canon | 2007-07-01 |
| 15 | I Will Head Towards Tomorrow | Manga Canon | 2007-07-08 |
| 17 | You Don't Know Anything! | Manga Canon | 2007-07-15 |
| 18 | Tell Me the Secrets of This World | Manga Canon | 2007-07-29 |
| 19 | We Will Survive By Any Means Necessary | Manga Canon | 2007-08-05 |
| 20 | How Far Will God Test Us? | Manga Canon | 2007-08-12 |
| 21 | You Are Someone Who Ought To Survive | Manga Canon | 2007-08-19 |
| 22 | That Is My Last Duty | Manga Canon | 2007-08-26 |
| 23 | Let's Go, This Is The Final Battle | Manga Canon | 2007-09-02 |
| 24 | I'll Never Forget This Minute, This Second | Manga Canon | 2007-09-09 |
| 25 | I Accept Your Last Wish! | Manga Canon | 2007-09-16 |
| 26 | Let's Go, Buddy | Manga Canon | 2007-09-23 |
| 27 | The Lights In The Sky Are Stars | Manga Canon | 2007-09-30 |
Gurren lagan filler list
Featuring a fantastical land and lovable characters mixed with a comedic plot, it is no surprise that Gurren Lagan earned enormous praise and adoration since its release. The series were created by Gainax studios and are now available to stream on Netflix as well!
Total episodes of Gurren Lagan
The series aired between the months of April and September in 2007. During this time, a total of twenty-seven episodes were released, which were majorly adapted from the manga novel of the same name, written by Kazuki Nakashima. 
Filler episodes of Gurren Lagan
Filler episodes become a need for anime series if there is not sufficient content available to adapt the series on. Although they are good sources of entertainment for the viewers, often filler episodes stray watchers from the original plot and lead to wastage of time that could have been spent elsewhere. 
Luckily enough, the directors of Gurren Lagan realize the flaws of filler episodes and have directed the series with only one reported filler episode! Yes, you read that right, Gurren Lagan has an incredibly low filler rate of 4%. 
Synopsis of Gurren Lagan
Gurren Lagan features Earth, under the rule of the obnoxious Spiral King, Lordgenome. He has bound the humans to subterranean villages and constant oppression. Within this era, two heroic fighters called Simon and Kamina plan to reach to the surface of Earth and lead a battle against the Spiral King and whoever is the real evil causing harm to human beings. 
You can start binge watching this amazing and adventurous series and finish them in little time by skipping its filler episode. The specific episode number of this filler is mentioned on our website so go ahead and lose yourself into the world of Simon, Kamina and their oppressor, Lordgenome! 
Related Filler List