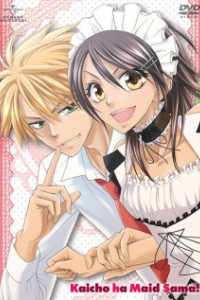 | # | Title | Type | Airdate |
| --- | --- | --- | --- |
| 1 | Misaki is a Maid-sama! | | |
| 2 | Maid-sama at the School Festival | | |
| 3 | What Color Is Misaki? Natural Color? | | |
| 4 | Net Idol Aoi | | |
| 5 | First Time Minding the Shop | | |
| 6 | Men & the Ayuzawa Cram School | | |
| 7 | Enter the Student Council President of Miyabigaoka | | |
| 8 | Misaki Goes to Miyabigaoka | | |
| 9 | Maid-sama Does Momotaro | | |
| 10 | Sakura's Indie-Label Love | | |
| 11 | The Secret of Takumi Usui Approaches! | | |
| 12 | Maid-sama & the Sports Festival | | |
| 13 | Idiots, Juviniles & Heroes &… | | |
| 14 | Soutarou Kano of Class 1-7 | | |
| 15 | Bespectacled Rabbit at the Open Campus | | |
| 16 | Maid Latte at the Beach House | | |
| 17 | Usui Becomes the Enemy | | |
| 18 | Maid-sama Is a Footman | | |
| 19 | Footmen Through a Change of Pairs | | |
| 20 | The Vice President Is a Prince?! Aoi & Her Fun Companions | | |
| 21 | Usui's Rival?! Hinata Shintani | | |
| 22 | Tag at the Forest School | | |
| 23 | Maid Latte & a Whole Bunch of Sweets | | |
| 24 | Lovey-Dovey Through Latte Magic | | |
| 25 | Hinata & Misaki & Usui | | |
| 26 | Too Cruel Ayuzawa & Usui the Idiot! | | |
Maid Sama filler list
If you are a fan of light-hearted romantic comedies then you should definitely watch the anime series, Maid Sama! Adapted from the manga novels of the same name, written by Hiro Fujiwara, this anime quickly gained popularity among the audience and became a favourite of many. 
What is Maid Sama about?
Based on the eighteen volume manga series, Maid Sama is about the first ever female student council president of the school, Sama. She maintains great grades while being the president and works as a part-time maid at the maid cafe.
However, her well maintained life becomes hell when the notorious and popular, Takumi Usui discovers her secret and starts to blackmail her with it, in an attempt to ruin her reputation at the school. 
How many episodes does Maid Sama have?
Maid sama greenlit television screen between the months of April and September in 2010. It aired a total of twenty six episodes during its short run time, taking content from its previously published manga editions. 
How many filler episodes does Maid Sama have?
Having talked about its limited episodes, we are glad to tell you that Maid Sama was concluded with a zero percent filler rate. Yes, you heard that right. The adorable story of Sama and Takumi is told through a series of completely canon episodes as Maid Sama contains no reported filler episodes!
Therefore, remember to not skip any of the episodes as every single one of them is crucial to the plot and character development of both the characters. Have fun discovering how the ruthless Takumi Usui finds a soft spot for the first female president, Maid Yama!
The Seven Deadly Sins Filler list