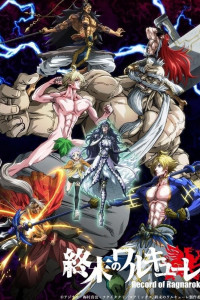 | # | Title | Type | Airdate |
| --- | --- | --- | --- |
| 1 | Ragnarok | Manga Canon | 2021-06-17 |
| 2 | Worthy Opponent | Manga Canon | 2021-06-17 |
| 3 | Killer Move | Manga Canon | 2021-06-17 |
| 4 | Joy | Manga Canon | 2021-06-17 |
| 5 | FILE No.00000000001 | Manga Canon | 2021-06-17 |
| 6 | Great Emulation | Manga Canon | 2021-06-17 |
| 7 | Expelled from Paradise | Manga Canon | 2021-06-17 |
| 8 | Grace Abounding | Manga Canon | 2021-06-17 |
| 9 | Tyrant of the Ocean | Manga Canon | 2021-06-17 |
| 10 | Greatest Loser | Manga Canon | 2021-06-17 |
| 11 | The Swallow Gaze into the Abyss | Manga Canon | 2021-06-17 |
| 12 | And Ragnarok Goes On | Manga Canon | 2021-06-17 |
| # | Title | Type | Airdate |
| --- | --- | --- | --- |
| 1 | Ragnarok | Manga Canon | 2021-06-17 |
| 2 | Worthy Opponent | Manga Canon | 2021-06-17 |
| 3 | Killer Move | Manga Canon | 2021-06-17 |
| 4 | Joy | Manga Canon | 2021-06-17 |
| 5 | FILE No.00000000001 | Manga Canon | 2021-06-17 |
| 6 | Great Emulation | Manga Canon | 2021-06-17 |
| 7 | Expelled from Paradise | Manga Canon | 2021-06-17 |
| 8 | Grace Abounding | Manga Canon | 2021-06-17 |
| 9 | Tyrant of the Ocean | Manga Canon | 2021-06-17 |
| 10 | Greatest Loser | Manga Canon | 2021-06-17 |
| 11 | The Swallow Gaze into the Abyss | Manga Canon | 2021-06-17 |
| 12 | And Ragnarok Goes On | Manga Canon | 2021-06-17 |
Record of Ragnarok Filler list
The top-tier fantasy and action anime series, Record of Ragnarok were recently taken to premiere on Netflix earlier this month. This series quickly arose to become a personal favourite of many fantasy fans who couldn't decide whether to root for the Valkyries to side with the powerful Gods of the council.
What is the Record of Ragnarok about?
Adapted using the manga series written by Takeo One, the record of ragnarok is about a fictional world where a council is met by Gods after every millennium to decide upon the fate of humans in the world.
This series focuses on the tournament that is held between the thirteen most powerful humans against thirteen extraordinary gods after the Gods decide to give humans one more chance to prove their importance to them.
How many episodes does Record of Ragnarok Fillers have?
These absolutely mesmerizing duel based series were released on Netflix in the year 2021. Based on the content from the original manga series, the anime show consisted of a total of twelve episodes with each episode about twenty four minutes long.
How many filler episodes does the Record of Ragnarok have?
The need to produce filler episodes arises if not sufficient content is available to adapt the series on and therefore the directors have to partake in making episodes with no significant contribution to the original storyline or characters.
Filler episodes are often regarded as a waste of time and the viewer should always skip them if they are running short on time. Luckily enough, the Record of Ragnarok contains no reported fillers in the entire show! You can make the most out of every single episode of the series since each of this is completely canon to the plot and fight of humans against gods!
Related Posts: