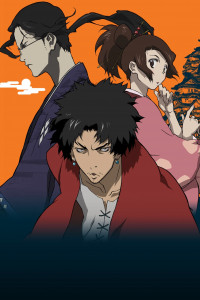 | # | Title | Type | Airdate |
| --- | --- | --- | --- |
| 1 | Tempestuous Temperaments | Manga Canon | 2004-05-20 |
| 2 | Redeye Reprisal | Manga Canon | 2004-06-03 |
| 3 | Hellhounds for Hire, Part 1 | Manga Canon | 2004-06-10 |
| 4 | Hellhounds for Hire, Part 2 | Manga Canon | 2004-06-17 |
| 5 | Artistic Anarchy | Manga Canon | 2004-06-24 |
| 6 | Stranger Searching | Manga Canon | 2004-07-01 |
| 7 | A Risky Racket | Manga Canon | 2004-07-08 |
| 8 | The Art of Altercation | Manga Canon | 2004-07-15 |
| 9 | Beatbox Bandits | Manga Canon | 2004-07-22 |
| 10 | Lethal Lunacy | Manga Canon | 2004-07-29 |
| 11 | Gamblers and Gallantry | Manga Canon | 2004-08-05 |
| 12 | The Disorder Diaries | Manga Canon | 2004-08-12 |
| 13 | Misguided Miscreants, Part 1 | Manga Canon | 2004-08-26 |
| 14 | Misguided Miscreants, Part 2 | Manga Canon | 2004-09-02 |
| 15 | Bogus Booty | Manga Canon | 2004-09-09 |
| 16 | Lullabies of the Lost, Verse 1 | Manga Canon | 2004-09-16 |
| 17 | Lullabies of the Lost, Verse 2 | Manga Canon | 2004-09-23 |
| 18 | War of the Worlds | Manga Canon | 2005-01-22 |
| 19 | Unholy Union | Manga Canon | 2005-01-29 |
| 20 | Elegy of Entrapment, Verse 1 | Manga Canon | 2005-02-05 |
| 21 | Elegy of Entrapment, Verse 2 | Manga Canon | 2005-02-12 |
| 22 | Cosmic Collisions | Manga Canon | 2005-02-19 |
| 23 | Baseball Blues | Manga Canon | 2005-02-26 |
| 24 | Evanescent Encounter, Part 1 | Manga Canon | 2005-03-05 |
| 25 | Evanescent Encounter, Part 2 | Manga Canon | 2005-03-12 |
| 26 | Evanescent Encounter, Part 3 | Manga Canon | 2005-03-19 |
| # | Title | Type | Airdate |
| --- | --- | --- | --- |
| 1 | Tempestuous Temperaments | Manga Canon | 2004-05-20 |
| 2 | Redeye Reprisal | Manga Canon | 2004-06-03 |
| 3 | Hellhounds for Hire, Part 1 | Manga Canon | 2004-06-10 |
| 4 | Hellhounds for Hire, Part 2 | Manga Canon | 2004-06-17 |
| 5 | Artistic Anarchy | Manga Canon | 2004-06-24 |
| 6 | Stranger Searching | Manga Canon | 2004-07-01 |
| 7 | A Risky Racket | Manga Canon | 2004-07-08 |
| 8 | The Art of Altercation | Manga Canon | 2004-07-15 |
| 9 | Beatbox Bandits | Manga Canon | 2004-07-22 |
| 10 | Lethal Lunacy | Manga Canon | 2004-07-29 |
| 11 | Gamblers and Gallantry | Manga Canon | 2004-08-05 |
| 12 | The Disorder Diaries | Manga Canon | 2004-08-12 |
| 13 | Misguided Miscreants, Part 1 | Manga Canon | 2004-08-26 |
| 14 | Misguided Miscreants, Part 2 | Manga Canon | 2004-09-02 |
| 15 | Bogus Booty | Manga Canon | 2004-09-09 |
| 16 | Lullabies of the Lost, Verse 1 | Manga Canon | 2004-09-16 |
| 17 | Lullabies of the Lost, Verse 2 | Manga Canon | 2004-09-23 |
| 18 | War of the Worlds | Manga Canon | 2005-01-22 |
| 19 | Unholy Union | Manga Canon | 2005-01-29 |
| 20 | Elegy of Entrapment, Verse 1 | Manga Canon | 2005-02-05 |
| 21 | Elegy of Entrapment, Verse 2 | Manga Canon | 2005-02-12 |
| 22 | Cosmic Collisions | Manga Canon | 2005-02-19 |
| 23 | Baseball Blues | Manga Canon | 2005-02-26 |
| 24 | Evanescent Encounter, Part 1 | Manga Canon | 2005-03-05 |
| 25 | Evanescent Encounter, Part 2 | Manga Canon | 2005-03-12 |
| 26 | Evanescent Encounter, Part 3 | Manga Canon | 2005-03-19 |
Samurai champloo filler list
Based on historical and mystical themes and traditions, the anime Samurai Champloo, directed by Manglobe quickly became a fan favourite among the audience. 
Are you planning to binge watch the series in a minimum span of time? If yes, then continue reading to find whether all of its episodes are completely canon and based on its source material or just filler episodes for entertainment. 
Total episodes of Samurai Champloo
Samurai Champloo greenlit our television screen in the early years between 2004 and 2005. During this period, a total of twenty-six episodes were aired originally on the Fuji TV network.
Filler episodes of Samurai Champloo
As in the case of many other anime series, Samurai Champloo is also adapted using the two-volume manga novel written by Masaru Gotsubo. The series ran for a short time and had enough source material to adapt episodes on. 
For this reason, Samurai Champloo has a reported filler rate of zero! Henceforth, you can start watching the series without worrying about wasting your time on filler episodes since every episode adds to the plot and characters of Samurai Champloo!
Synopsis of Samurai Champloo
Taking place in the Edo-era of 1603, Samurai Champloo is about a patriotic swordsman in Japan called Mugen. He, along with two other people embark on a dangerous journey to find the magnificent prophecy of a Samurai who smells flowers and bring him back to Japan.
Start watching the series to know how this unlikely band of misfits survive and carry on with their hunt without killing each other off instantly and to know whether they succeed in their quest or something unpredictable causes them to stop midway. 
The Seven Deadly Sins
Black Butler Fillers
Gurren Lagann 
Black Clover fillers