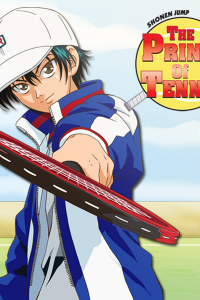 | # | Title | Type | Airdate |
| --- | --- | --- | --- |
| 1 | A Prince Appears | Manga Canon | 2001-10-10 |
| 2 | Samurai Junior | Manga Canon | 2001-10-17 |
| 3 | The Seigaku Regulars Make Their Debut | Manga Canon | 2001-10-24 |
| 4 | The One Named Viper | Manga Canon | 2001-10-31 |
| 5 | Snake Shot | Manga Canon | 2001-11-07 |
| 6 | Nanjiroh Echizen | Manga Canon | 2001-11-14 |
| 7 | The Two Ryomas | Manga Canon | 2001-11-21 |
| 8 | The Split Step | Manga Canon | 2001-11-28 |
| 9 | The Hard Day | Manga Canon | 2001-12-05 |
| 10 | Counterattack! Sasabe Again? | Mixed Canon/Filler | 2001-12-12 |
| 11 | Ryoma vs. Momoshiro | Manga Canon | 2001-12-19 |
| 12 | The Perfect Match | Manga Canon | 2001-12-26 |
| 13 | Real Men Play Doubles | Manga Canon | 2002-01-09 |
| 14 | The Triple Counter | Manga Canon | 2002-01-16 |
| 15 | To Each His Own Battle | Manga Canon | 2002-01-23 |
| 16 | The Boomerang Snake | Manga Canon | 2002-01-30 |
| 17 | A Little Gesture of Triumph | Manga Canon | 2002-02-06 |
| 18 | The Love Letter | Manga Canon | 2002-02-13 |
| 19 | Battle-Scarred Ryoma | Manga Canon | 2002-02-20 |
| 20 | Time Limit | Manga Canon | 2002-02-27 |
| 21 | Is the Tennis Court Burning Up? | Filler | 2002-03-03 |
| 22 | Kaoru's Troubles | Mixed Canon/Filler | 2002-03-13 |
| 23 | Here Comes Inui's Deluxe Drink! | Mixed Canon/Filler | 2002-03-20 |
| 24 | Ryoma's Day Off | Filler | 2002-03-27 |
| 25 | Seigaku's Strongest Man, Part 1 | Manga Canon | 2002-04-10 |
| 26 | Seigaku's Strongest Man, Part 2 | Manga Canon | 2002-04-10 |
| 27 | Karupin's Adventure | Mixed Canon/Filler | 2002-04-17 |
| 28 | A New Regular Appears?! | Manga Canon | 2002-04-24 |
| 30 | Mizuki's Scenario | Manga Canon | 2002-05-08 |
| 31 | The Moon Volley | Manga Canon | 2002-05-15 |
| 32 | Mortal Blow: Eiji's Feigned Sleep Attack!? | Manga Canon | 2002-05-22 |
| 33 | The Tiebreak | Manga Canon | 2002-05-27 |
| # | Title | Type | Airdate |
| --- | --- | --- | --- |
| 21 | Is the Tennis Court Burning Up? | Filler | 2002-03-03 |
| 24 | Ryoma's Day Off | Filler | 2002-03-27 |
| # | Title | Type | Airdate |
| --- | --- | --- | --- |
| 1 | A Prince Appears | Manga Canon | 2001-10-10 |
| 2 | Samurai Junior | Manga Canon | 2001-10-17 |
| 3 | The Seigaku Regulars Make Their Debut | Manga Canon | 2001-10-24 |
| 4 | The One Named Viper | Manga Canon | 2001-10-31 |
| 5 | Snake Shot | Manga Canon | 2001-11-07 |
| 6 | Nanjiroh Echizen | Manga Canon | 2001-11-14 |
| 7 | The Two Ryomas | Manga Canon | 2001-11-21 |
| 8 | The Split Step | Manga Canon | 2001-11-28 |
| 9 | The Hard Day | Manga Canon | 2001-12-05 |
| 10 | Counterattack! Sasabe Again? | Mixed Canon/Filler | 2001-12-12 |
| 11 | Ryoma vs. Momoshiro | Manga Canon | 2001-12-19 |
| 12 | The Perfect Match | Manga Canon | 2001-12-26 |
| 13 | Real Men Play Doubles | Manga Canon | 2002-01-09 |
| 14 | The Triple Counter | Manga Canon | 2002-01-16 |
| 15 | To Each His Own Battle | Manga Canon | 2002-01-23 |
| 16 | The Boomerang Snake | Manga Canon | 2002-01-30 |
| 17 | A Little Gesture of Triumph | Manga Canon | 2002-02-06 |
| 18 | The Love Letter | Manga Canon | 2002-02-13 |
| 19 | Battle-Scarred Ryoma | Manga Canon | 2002-02-20 |
| 20 | Time Limit | Manga Canon | 2002-02-27 |
| 22 | Kaoru's Troubles | Mixed Canon/Filler | 2002-03-13 |
| 23 | Here Comes Inui's Deluxe Drink! | Mixed Canon/Filler | 2002-03-20 |
| 25 | Seigaku's Strongest Man, Part 1 | Manga Canon | 2002-04-10 |
| 26 | Seigaku's Strongest Man, Part 2 | Manga Canon | 2002-04-10 |
| 27 | Karupin's Adventure | Mixed Canon/Filler | 2002-04-17 |
| 28 | A New Regular Appears?! | Manga Canon | 2002-04-24 |
| 30 | Mizuki's Scenario | Manga Canon | 2002-05-08 |
| 31 | The Moon Volley | Manga Canon | 2002-05-15 |
| 32 | Mortal Blow: Eiji's Feigned Sleep Attack!? | Manga Canon | 2002-05-22 |
| 33 | The Tiebreak | Manga Canon | 2002-05-27 |
The prince of tennis filler list
It is not hidden that fantasy and adventure have been the most dominating genres for anime series for a long time. If you are planning to take a break from these and instead watch something related to sports or of a better coming of age vibe, we sincerely recommend the prince of tennis to you!
Taken from the Japanese manga series written by Takeshi Konomi, the prince of tennis greenlit our screens between 2001 and 2002. These took content from the forty two volume long published manga series.
Synopsis of The Prince of Tennis
There is one misconception about the Prince of tennis series that it takes content directly from the source material of manga. This is definitely not the case as the manga follows the childhood and youth of a highly exceptional tennis player, Ryoma Eichzen, studying in the prestigious Seishun Academy for expert tennis players.
While he is there, he brushes up his tennis skills and quickly becomes the undefeated player against many upperclassmen. The anime version of The Prince of Tennis continues this plot and is focused on the return of Ryoma Eichzen , as a tennis prodigy in the future, back to his school. Here, he will once again play in the National Championship but with entirely new teammates and rivals including matches against his very own father.
How many filler episodes does The Prince of Tennis have?
Given the only one year long run time of the Prince of Tennis, surely the 132 chapters long manga was sufficient for it to be adapted on. With a total of thirty-two episodes, the Prince of Tennis has merely two filler episodes and a highly low filler rate of six percent. It also has four mixed episodes but the remaining ones are completely canon to the plot.
Final Words
Seeing this low filler rate and total episode number, it is no surprise that viewers binge through the Prince of Tennis in little time. Make sure to not miss out on any canon or mixed episode to stay updated about Ryoma's journey at Seishun Academy and watch him shine and find himself and his passion on the way.