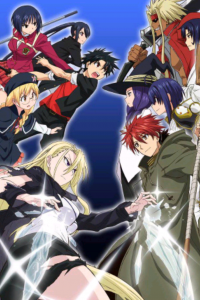 | # | Title | Type | Airdate |
| --- | --- | --- | --- |
| 1 | Beauty and the Boy | Manga Canon | 2017-10-02 |
| 2 | You Can't Hate Someone You Meet Naked | Manga Canon | 2017-10-09 |
| 3 | Palace of the Immortals | Manga Canon | 2017-10-16 |
| 4 | Invasion of the Assassins | Manga Canon | 2017-10-23 |
| 5 | Magia Erebea | Manga Canon | 2017-10-30 |
| 6 | Kurōmaru's Dark Days | Manga Canon | 2017-11-06 |
| 7 | Reset and Restart | Manga Canon | 2017-11-13 |
| 8 | Operation: Capture Fate | Manga Canon | 2017-11-20 |
| 9 | Love, Baths, and Vigorous Exercise | Manga Canon | 2017-11-27 |
| 10 | Welcome to Mahora Academy | Manga Canon | 2017-12-04 |
| 11 | Her Love Story | Manga Canon | 2017-12-11 |
| 12 | Adeat! Everlasting Love! | Manga Canon | 2017-12-18 |
| # | Title | Type | Airdate |
| --- | --- | --- | --- |
| 1 | Beauty and the Boy | Manga Canon | 2017-10-02 |
| 2 | You Can't Hate Someone You Meet Naked | Manga Canon | 2017-10-09 |
| 3 | Palace of the Immortals | Manga Canon | 2017-10-16 |
| 4 | Invasion of the Assassins | Manga Canon | 2017-10-23 |
| 5 | Magia Erebea | Manga Canon | 2017-10-30 |
| 6 | Kurōmaru's Dark Days | Manga Canon | 2017-11-06 |
| 7 | Reset and Restart | Manga Canon | 2017-11-13 |
| 8 | Operation: Capture Fate | Manga Canon | 2017-11-20 |
| 9 | Love, Baths, and Vigorous Exercise | Manga Canon | 2017-11-27 |
| 10 | Welcome to Mahora Academy | Manga Canon | 2017-12-04 |
| 11 | Her Love Story | Manga Canon | 2017-12-11 |
| 12 | Adeat! Everlasting Love! | Manga Canon | 2017-12-18 |
UQ Holder Filler List
Filling with action packed battles and fantastical plot, the anime show UQ Holder has taken the world by storm since its release. Serialized in 2017 by J.C Staff Studio, UQ Holder has gained a dedicated fan following with its strong opinionated characters and plot.
Total episodes of UQ Holder
UQ Holder, like most other anime series, has been adapted from an already published manga novel series of the same name. Written and illustrated by Ken Akamatsu, UQ Holder first greenlit our television screens in September 2017. 
The series aired for a very short time and concluded in early June of 2017. During this span, a total of twelve episodes were released, each having a runtime of almost twenty-five minutes. Among these episodes, let's see how many were completely canon to the manga novels plot and content. 
Filler episodes of UQ Holder
Often, directors release filler episodes in between anime shows if they lack source material to adapt episodes on. These fillers are, although good sources of entertainment, but can still waste the viewer's time and confuse them about the actual plot and characters of the series. 
Fortunately enough, the short air time combined with over twenty five already released volumes of its manga series meant that there was no need to direct filler episodes for UQ Holder. The series concluded with an impressive zero percent filler rate!
Final Words
And with that being said, we suggest that you start watching UQ Holder immediately! Since there are no filler episodes you can skip to save your time, you need to watch every single episode to completely understand Tōta Konoe and his ventures against bounty hunters which lead him to join the secret society, UQ Holder.